Christmas gifts from the land of Oz...
annie1992
February 7, 2007
About a week or so ago, I got a package from Australia. Ashley was as excited as always, it was from Colleen "her birthday twin". (grin)
Colleen sent Ashley a nice calendar/planner to keep track of homework and work dates, a little pocket sized planner for me (like she thinks I'll ever get organized at home, LOL?), a calendar for Amanda and toys for the Monkey Princess and her Bruvver.
Just on time too, the two Monkeys got a virus and were sick, so Makayla spent time on the couch playing with the finger puppets and making up songs about all the animals and fish on her fingers: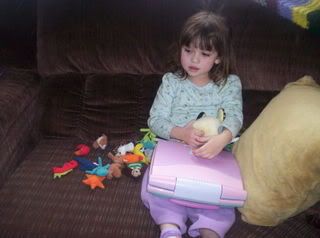 She likes this one best: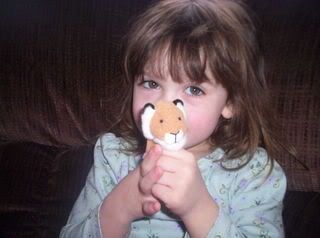 Colleen sent Bud a Kookaburra bird, and it makes noise, Colleen said it sounds just like a Kookaburra. Bud wouldn't hold it for a picture, if he threw it it would make a noise so the minute he got his hands on it he'd grin, yell "fly, bird" and throw it across the room. Makayla held it for a picture: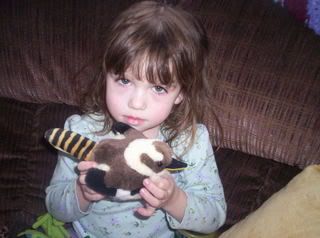 Bruvver wasn't very happy about that, but we gave it right back....
She also sent a couple of tiny pins that she said were Australian childhood icons, but my camera couldn't get close enough to show them, they just came out blurry. Makayla has one on her coat, and Ashley claimed the other. LOL Big kids.....
Thank you, Colleen, for thinking of us, it was very kind and the kids loved the gifts. So did I.
Annie