Your thoughts on this Mascord plan?
We're a family of 4 (DH, myself, and two girls, ages 7 and 3.5) planning to build on 5+ acres in Wisconsin, and currently looking for the "right" plan. Our views are S/SW, so we'll orient the rear of our home in that direction.
I like Mascord's Pineville, and (very) similar Braecroft, but would like to hear your critique. We'll have a basement, and would lean toward not building the second floor 4th bedroom on either plan (see link, I couldn't embed the second floor pics). I like the Braecroft's mudroom, but would want to add a large closet. I'd also want to re-orient the stairs, so that guests wouldn't have to enter the mudroom to go downstairs.
Both have a nook and dining room in close proximity; I'd anticipate using one dining area for homework/projects, and the other for dining (on typical nights; for parties, we'd use both for dining). The laundry room is close to the kitchen/distant from bedrooms, which actually works well for me.
What else should we/I consider before choosing one of these plans? What (other) changes would you make?
Thanks in advance!
mommy to C (and K)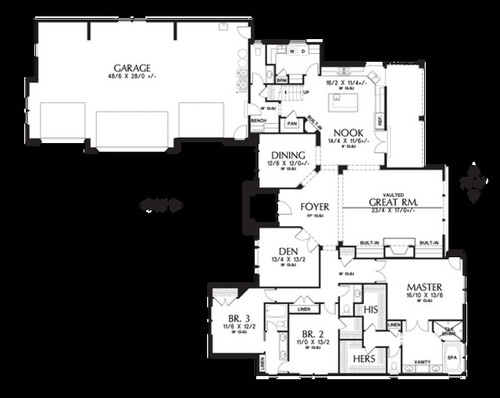 Here is a link that might be useful: Pineville