I'll be happy cooking, eating and drinking!
wizardnm
November 27, 2008
My swap box was waiting for me when I got home last night from visiting my DM downstate.
James, it's perfect!!!!
I opened the Frankoma jug first, it is beautiful and I will be putting to actual use, holding the maple syrup that I love. I have some antique mixing bowls that I use all the time that are the very same color. I use all my stuff, never 'just on display' here. It will always be very special to me. Thank You!
Next I opened the box with the wine glasses. Almost bought some very similar....glad I didn't. These are much nicer. I'll be posting our Thanksgiving dinner pic today and they will be in it as we always enjoy a glass of wine... Thank You!!
Third item..... James, I'm not sure why you were worried about the cookbook selection. It looks great! I love cookbooks, read them like a novel and this one will keep me reading for a very long time. I've already spotted some things I will be making. I opened the book up to the chapter on poultry and have already decided to make Ginger Chicken, Peanut Chicken, Lemon Chicken and Chicken Potato Patties..... I love the fact that this book focuses on many countries around the world. I really like the way the book is organized. I'll be using it a lot. Thank You!!!
Here's my picture: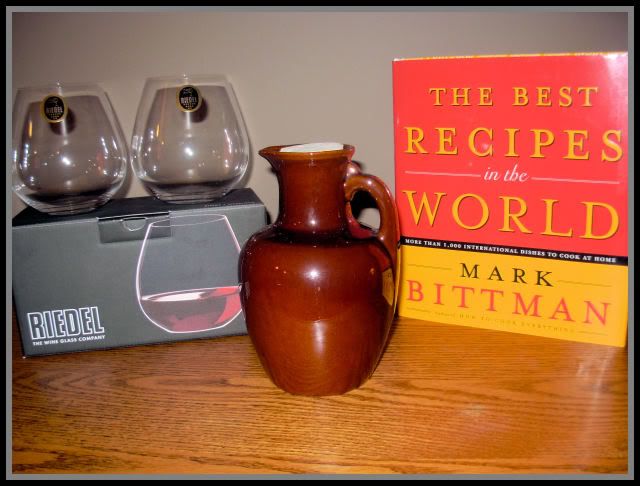 Nancy....back to cooking Thanksgiving dinner.