WANTED: On insight and caring across the net -- thanks AnnT
Ann dooped me. I posted about my absence next week and she calmly reassured me that my partner was aware of my message. Yup. She was. I went back to read carefully and realized she was very lawyerly in her choice of words. (Please excuse my stupid inability to post pictures properly).
Well, Ann surprised and blew me away. She is insightful.
She kinda kept by the rules. But as you will see, her heart wanted to cheat.
First, the package absent identifying info.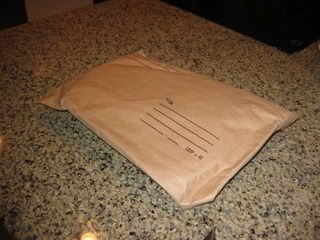 .
As always, Ann's presentation was perfect. My mom and DH were the witnesses.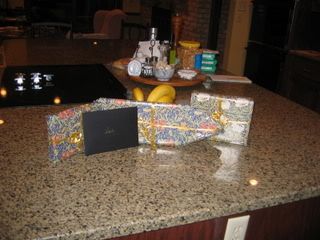 . DH said, as others have before him --its an ironing board!
Well, it was not an ironing board!
Let begin at the cookbook. I love to bake bread. I am very much a novice. When I am stressed or happy and can dig out the time, this is what I want to do. I began this love many years ago and stopped. I will not stop again. Ann and many of you have been an inspiration. I am not getting lost again. I love this cookbook. I have known of it and do not have it. It will become a staple.

But please note--SHE CHEATED -- KIND OF. I received a wonderful double volume of Beard on Bread AND Beard on Pasta. Little does Ann know that pasta is my second love! I am very much a carb kind of gal.
I love these books. No, dear daughter will not get them. They are mine. (By the way, I down loaded your cookbook onto DD's laptop before she went to grad school. Her laptop crashed and her first request-- get me Ann's cookbook!--Done. She made your bagels yesterday.)
The second was local. Ann blessed me with a gorgeous Lee Wolf Board. It is my favorite bread board.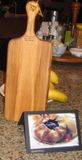 My DH stuck his nose in that Board. It smells great and the grain is gorgeous.
Third, Ann, who calls herself not 'crafty," sent me her beautiful handmade, personally photographed note cards. I don't know if I can give them away. I may need to frame them.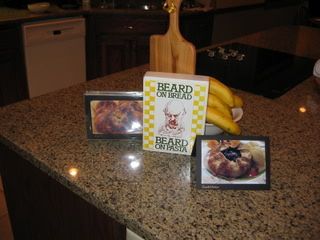 This was a thoughtful swap from a person I so respect. Thank you Ann. Adele