WANTED: Wahoo! I Got One, I Got One...
mustangs81
October 22, 2006
of Diana/dlundin's photographic prints!!! I have been coveting her prints for a long time. Okay, let me settle down and start at the beginning. I can honestly say that I have been so focused on my swap partner that I was caught off guard when I found the package on the front porch.
Diana's letter walks me through her strategy for the selections for my Swap Box. Seems like she has excellent searching and/or recollection skills.
Unexpected Bonus Diane wrote a note in addition to her letter. She didn't cheat but the note card was one of the renowned "Blue Dog" prints so I framed it and put it in the laundry room because it goes perfectly with my "Blue Cats" print.
Blue Dog: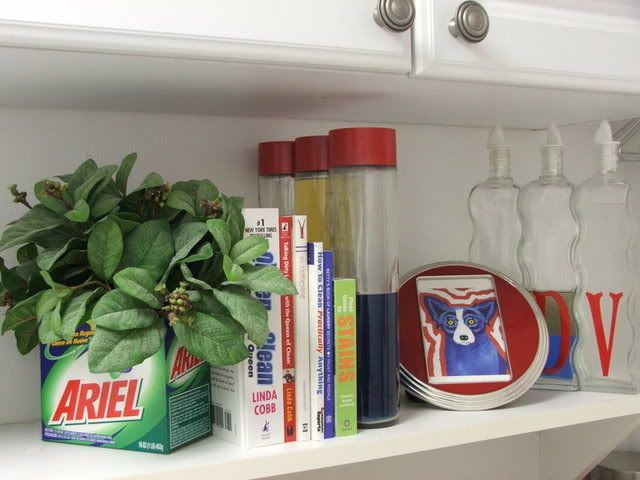 Regional Item McEvoy EVOO from California. Last spring I was going through Atlanta and (of course) stopped at Harry's Market. They were having an OO tasting and this is the same brand that I chose and bought. How coincidental is that? Well, not really coincidental, it was just that good!
Cookbook This is one beautiful book inside and out. And it has personal connectivity for Diana as she been to the chef's/author's restaurant and even tried to capture a signature for me. Diana has high praise for this chef's (Suzanne Goins) creations. Reviews on Amazon give this book 5 out of 5 stars from 18 reviews. I quickly found a recipe that I will be using quickly (yes, I will share it on the Discussion side). It is a chorizo stuffing and I always have chorizos.
EVOO and Cookbook:
Homemade Item OMG, I am so honored to have this. Diana took a picture of a plain ole pear and made it look like a James Peale still live. I hung this immediately, really before unwrapping the other two items. I would have thought that I went to heaven with just the photo, but Diana framed it so perfectly too. You just can't imagine how beautiful this is in person.
Framed Pear Photo:
AnnT thank you for giving me to Diana.
Diana, you are a fabulous swap partner.