Home-Grown Goodies From Gail!
Well it was a rainy day here yesterday, and the day sure was brightened by the ring of the doorbell and delivery of a mysterious and wonderful box! DS, who was home from school b/c he was sick earlier in the week, could not wait to see what was in the box that came all the way from Indiana! I let him help open the box, but he couldn't understand why i wouldn't let him open the gifts until i took photos, lol...
Here are the goodies, wrapped up, and you can see that Gail's wrapping beautifully reflected the fall theme:
Then, we opened everything, one at a time, as we read Gail's lovely letter describing each. I was so touched that she sent us preserves that she made herself from fruits from her own father's farm!! I feel so lucky to get a taste of something so special. There's strawberry-cranberry (which Gail uses for the holidays), cherry (which Gail said is her favorite), and apple...
Next, the enticing looking bag yielded a wide selection of a local sweet treat, known as "DipSticks"--pretzel rods surrounded by caramel or marshmallow and some with nuts or dried cranberries, or candy corn, then dipped in dark or milk chocolate! OMG, that's about when DS lost it... Both DS's put a claim in on the ones called "Trick or Treat" (which also of course reflects the fall theme!)--chocolate-covered caramel w/peanuts and candy corn, and DH gobbled up one w/dried cranberries and caramel! Yummy, and Gail said these are made and sold locally by a relative of hers, and that her 12-yo DD helped choose them--Kudos to your DD, Gail! Here they are:
Finally, we came to the cookbook, a wonderful volume by Marcia Adams, called "Heirloom Recipes: Yesterday's Favorites, Tomorrow's Treasures." Gail said Marcia Adams hosts a PBS cooking show in her area, and is from Indiana. The book is divided by seasons, and within each season there are categories containing recipes from different regions of the country, for instance, the 'autumn' section contains chapters called 'tailgate parties,'satisfying soups,' and 'an embarrassment of pies!' And, Gail marked a recipe for raspberry-cream cheese coffee cake, which she says she really likes when made with her own homemade apple preserves. I can't wait to try it! Another one that caught my eye when i was looking through it was a Cheddar Bundt--a cheese bread made in a bundt pan, yum!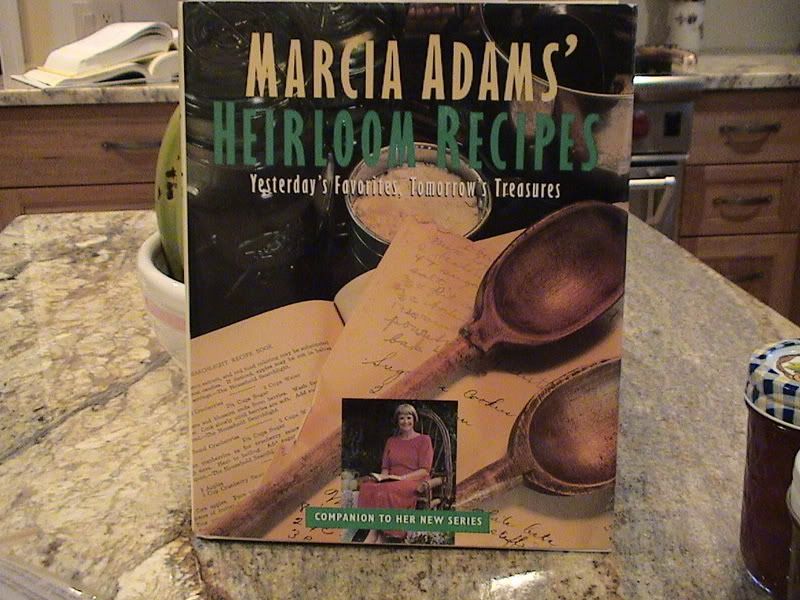 Thank you for a wonderful swap box, Gail! I can't wait to taste those preserves and make some of these wonderful recipes!