Karigraphy- 'thank you' - speechless!
catlover
September 14, 2005
DH and I arrived home at about the same time; he was at the a mailbox; as I drove up, he pointed to the BOX on our front steps! Oh my! I said "who is it from?' He said "doesn't say."
I looked and my name was in gorgeous caligraphy. But . . . I said, "it can't be from Karen, she already sent her package". . . But it was from Pa. I was pretty sure she was from Pa. Oh my. . .
And there was clearly the most beautiful name label I have ever seen (I have it) ... before doing anything (I am a delayed gratification person) I checked Karen's info -- sure enough PA!
I really found that exciting because I bonded a lot with the idea of the twins going off to Kindergarten (and memories of my three monster creatures). . . now grown up but never gone.
The box itself was beautiful. I took a picture, but it revealed too much about ourselves for the net. Ask Alison-- my box was a mess.
There was a letter. I knew all that stuff! But wow . . . she sure knew a lot about me! Yikes. I am pretty transparent and Karen really did her research.
Well she is sooo thoughtful and smart and "my goodness" thorough.
Here are my goodies.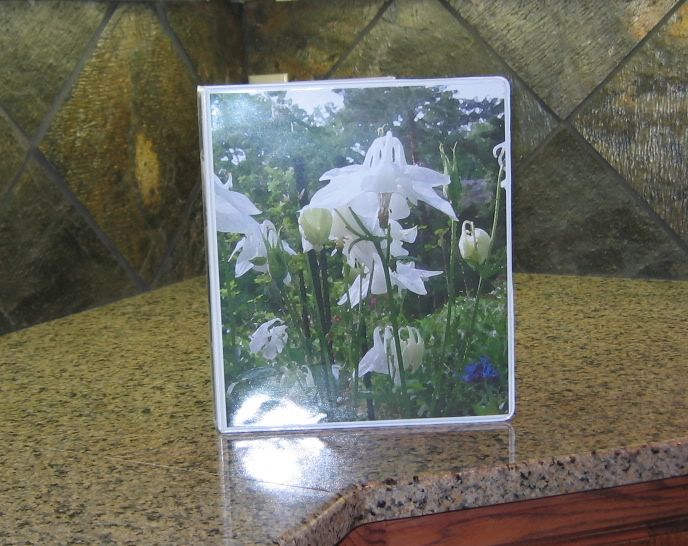 The greatest gifts take work. Karen gave me HISTORY. Ok-now I need to learn more about those molten lava cakes and the surprise cheese balls --I have the recipes, but should I use them???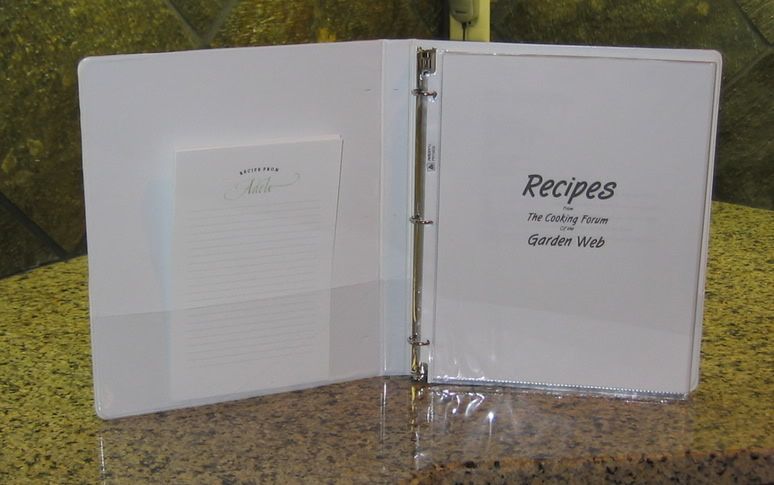 Check out the hand made caligraphy recipe cards. Oh my . . . I better come up with something good! I love irish soda bread --my grandma came here from Ireland in the late 1900's. I am a bakin'.
Take a look at these.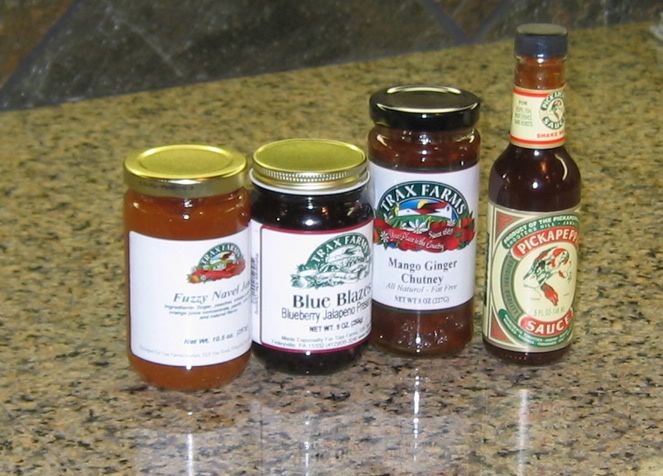 From Trax Farms in Finleyville, Pa. (Near Karen's hometown) Fuzzy Navel Jam, Blue Blazes (Blueberry Jalepeno Preserves), and Mango Ginger Chutney. Give me ideas. They sound great and look great. And Pickapeppa Sauce -- Karen already gave me a recipe . . . hers sounds right up DH's alley. thank you.
Fred, Frank, Ginny, and Jezabel know (not that they ever doubted it) that their place in the world is valued.
. I really need help with ideas. This MOOSEWOOD RESTAURANT COOKS at HOME cookbook will make my DIL put me up there (forget DD-who owes me). My tea towels, which match my kitchen perfectly, will take the place of ancient blue towels that don't match. And the green silicone hot spots have been coveted by yours truely. thank you.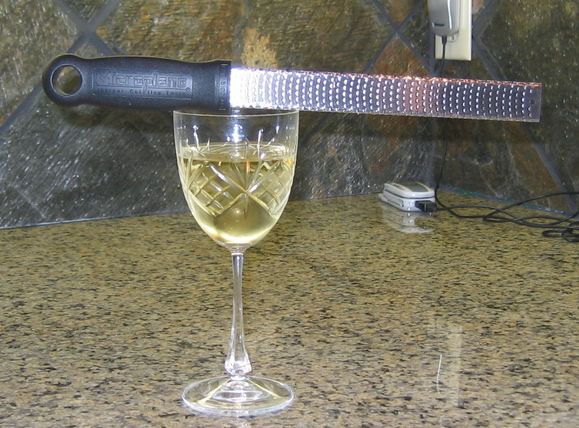 I never heard of one until this forum. Now I have one and need it all of the time. Check out the glass of wine that I enjoyed while I enjoyed this perfect swap box.
Thank you. I feel very cared for . . . swap partner. Adele