Question about enamel-clad cast iron skillet
mama goose_gw zn6OH
April 16, 2013
I bought a used, enamel-clad cast iron skillet at a flea market, for $2.00. I assume that it's a cheap knock-off of LeCreuset--the bottom of the skillet says China, which doesn't inspire confidence, but I thought if I couldn't get it clean enough to cook in, I could use it for a fruit bowl or muffuleta press. It looked as if someone had tried to season it at too high a temperature--the inside was covered with an icky-sticky layer of amber gunk, with a few of the same drips on the outside.
I was able to clean the outside with a scrubbie, but the baked on stuff in the skillet was more of a challenge. I heated water and dish liquid for a few minutes, then used a stainless steel spatula to scrape out most the the residue. I then used steel wool to completely remove the old stuff, but now I'm wondering if it's really cast iron. It has the heft of cast iron, and it attracts a magnet with a resounding 'thunk', but it looks as if it might have been sprayed with a coating.
As you can see from the pic, the inside is textured dark gray, but there are a few 'nubs' that are bright silver. They don't look like metal marks from the spatula scraping--they look like a base metal. I don't use non-stick coated pans, but in the past I've had Teflon, and this surface doesn't have the same appearance. I couldn't scratch it with the tip of a knife, and it doesn't appear plasticky.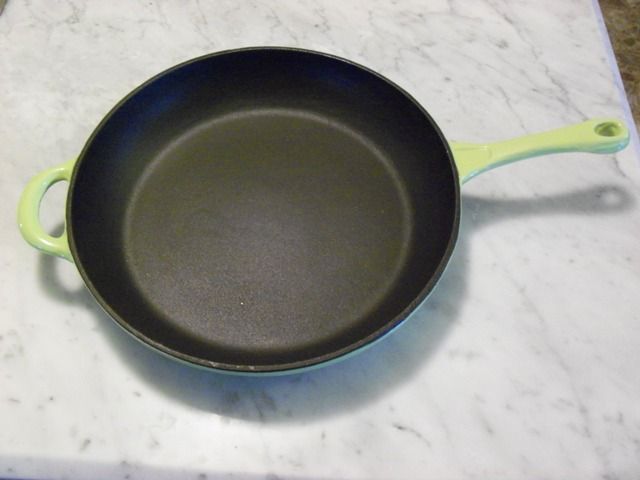 Silver nubs:

Any thoughts on whether or not this is coated with a non-stick surface? Thank you.
I really like the color: