Tikanas you are Wonderful!!!
I received my swap package from Tikanas late this afternoon. The poor box looks like it was beaten with a sledge hammer and I was a little worried about the contents. However, I left the box on the landing and told the boys I'd wait until their Dad got home to open it: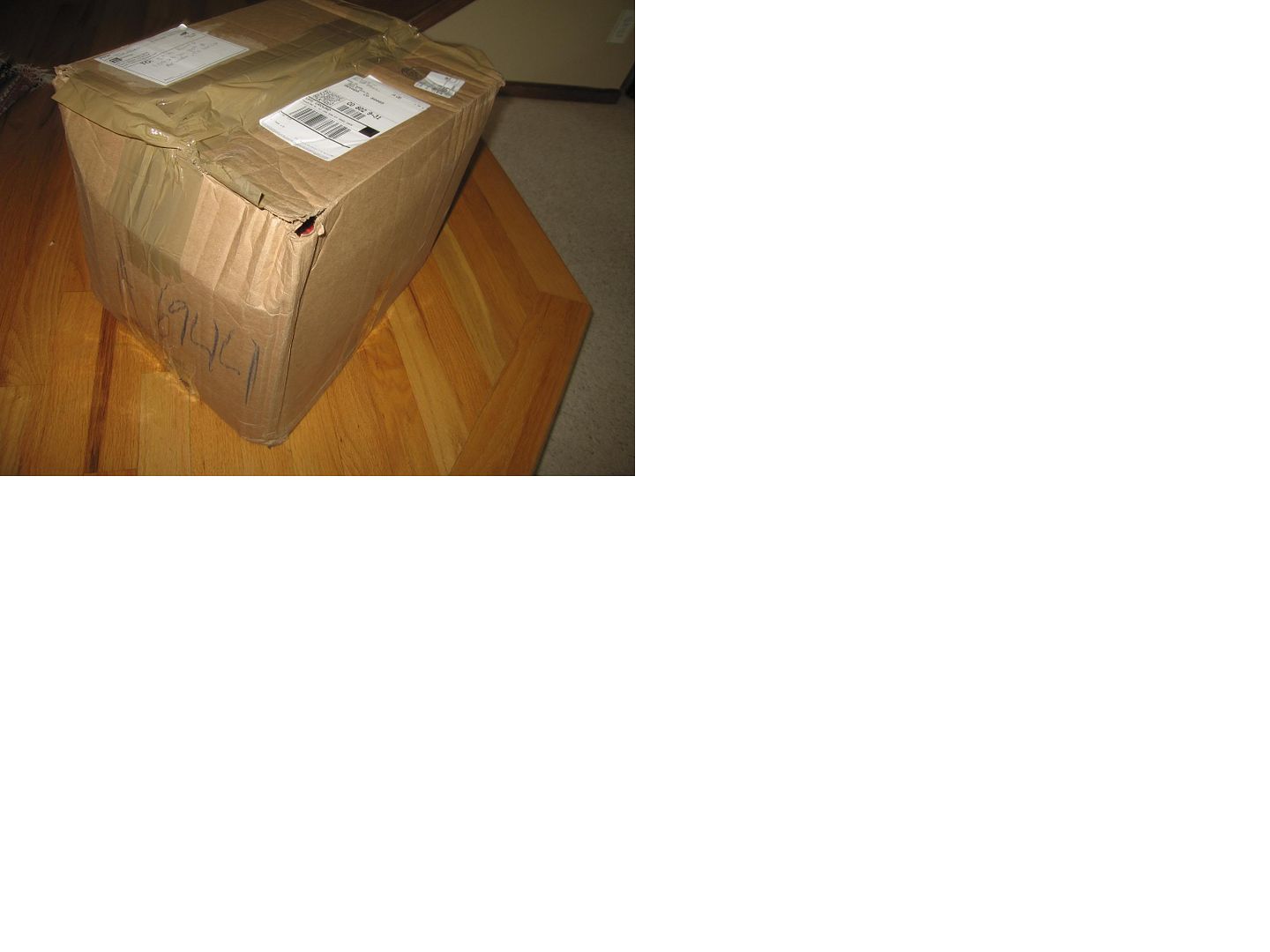 I also want to note that this is my first time ever posting a picture and I'm feeling rather proud of myself so hopefully it will turn out all right! Gina had to post my pix for the last swap. I'm really not that computer illiterate, I just am one of those people who hate reading directions and just want to DO it ---- ok, ok, I digress.
I passed the package a few times on my way up and down the stairs and then I had it. I went over and started ripping it open -- the boys said, Hey, I thought you were going to wait! ' -- yeah, well, shoulda woulda coulda, whatever, gotta go, gotta go!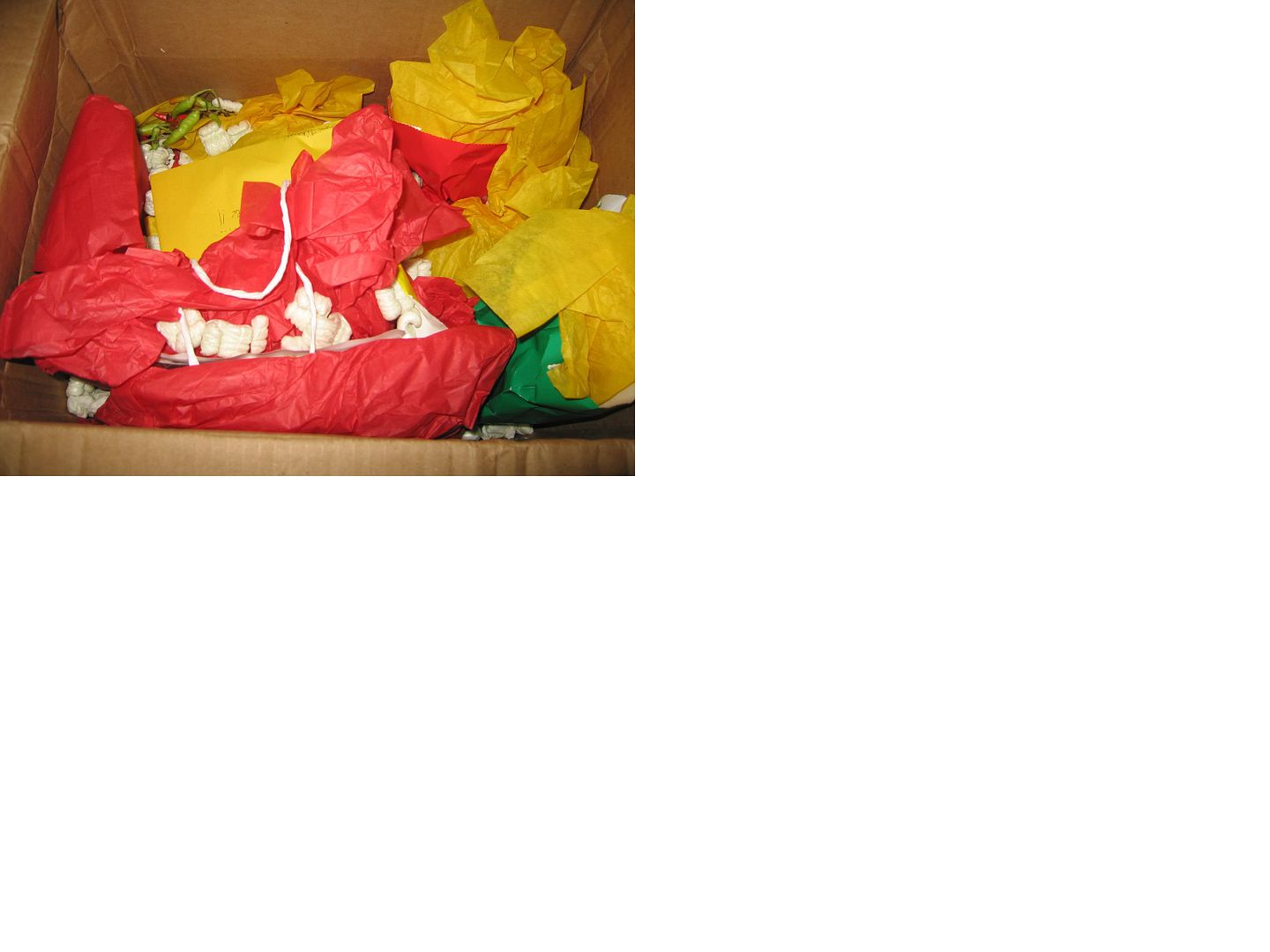 I started screaming soon after the tissue paper was peeled away -- Tikanas, thank you so, so much for the generous package you sent. I am SO excited about it. The theme was Hecha en Mexico (Made in Mexico) She had read that I love Mexican food, and probably also that I am heading to Santa Fe soon to celebrate my 40th bday with friends. I don't know what to dive into first!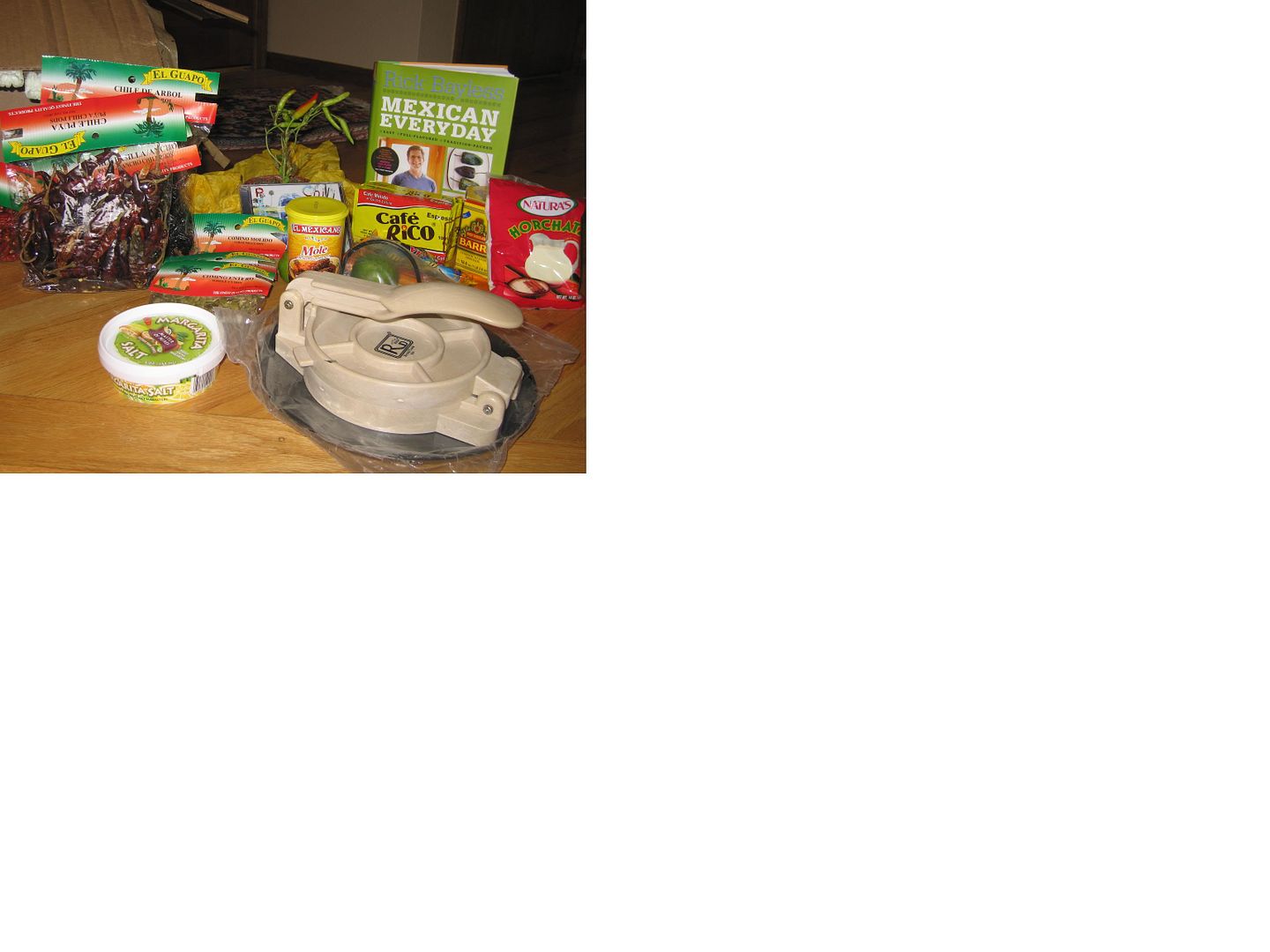 I CANNOT BELIEVE YOU SENT ME A PEPPER PLANT! Yes, Tikanas sent me a LIVE chile pepper plant. And it made it! It's on my kitchen counter in front of the window as I write this.
She sent a Rick Bayless cookbook that looks GREAT - I have an older one of his but the recipes are so long and involved, I just never have time to make any of the recipes. This one has wonderful photos and recipes and looks much more manageable during the week!
She sent me a large selection of Mexican spices and chiles - Chile de Arbol, Puya chili pods, ancho chili pods, red peppers, ground cumin, hulled pumpkin seeds (and I just so happen to have a guacamole recipe that calls for these), and whole cumin.
There is a package of Mexican rice with corn I can't wait to try. She included a couple limes and margarita salt - I'm embarrassed to count the number of margaritas I've drank this summer and I do so love salt. There is a Horchata mix -- I had to look it up because I didn't know what it was, and it sounds WONDERFUL - it's a drink of rice, almonds, cinnamon, lime zest and sugar, it's dairy free, and "rumored to be the cure for a hangover" so I'll give it a whirl after I finish my margaritas!
There is a Mexican hot chocolate mix, Mexican coffee, and Mole sauce.
THEN there is a small pan, is it called comales, Tikanas? It's made for frying up tortillas. I've never seen one before, and can't wait to try it out. Along with my
TORTILLA PRESS -- I started screaming when I saw it. My husband walked in after work and said "What's THIS?" with a big smile on his face - and went right to the chile plant and stole the coffee.
This fall will be the first time my kids are all in school full time and people keep asking me "What will you DO with yourself?" Well, I'll be learning how to make homemade tortillas, and mole dishes, and tamales --- Tikanas, I can't thank you enough for the very thoughtful box you sent. I LOVE it!
PS Ok, when I preview this my pix are huge even though I downsized them and there is a bunch of space between the photos that I can't fix but just hang in there with me, ok? I'll get it eventually!