It fits me to a T, TobyT!!
I drove by my house and noticed that my son had edged the lawn (good boy). I also noticed nothing on the doorstep. Sigh. Then I came inside and found this on the table!!
It's my swap box from Jane!! Better known here as TobyT. Her theme is "Think Pink, Eat and Drink". I could even smell the goodies through the box!! I tore off the paper and found this cornucopia of pretty packages
Knowing you would all be clamoring for pictures, I had to exercise great fortitude by taking some pics before I started to rip and tear. Here are all the pretty packages!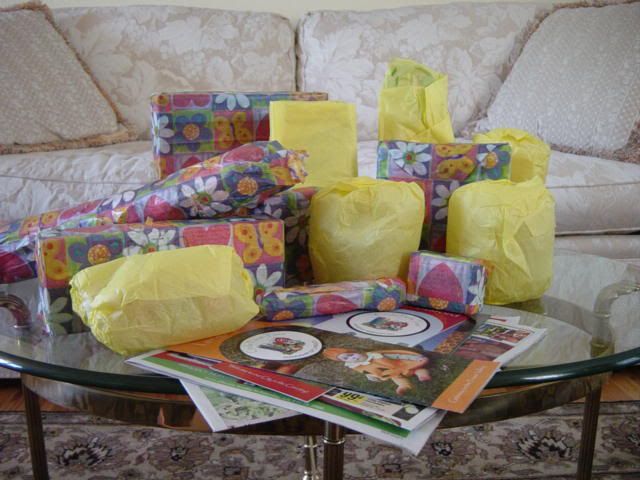 The flowered packages contained the Think Pink items. First are four delightful pink striped placemats -- they look like Christmas candy canes. I can't believe I actually own four matching placemats without spots and stains. After that are the most adorable corn picks with flowers, sunshines, pineapples and palm trees. Sure beats the yellow plastic corn cobs I have now. There was also a package of pretty party napkins -- perfect for my next book club meeting. Here they are: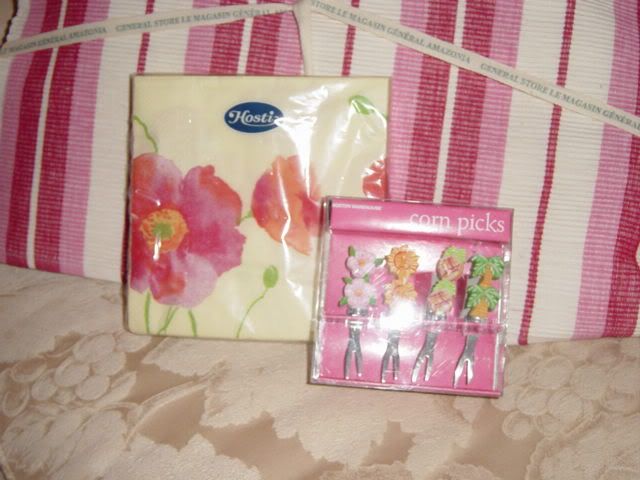 Jane must have heard about all the rain we've had, creating a bumper crop of mosquitoes. Here are some too darling citronella candles (pink, of course) in watering cans!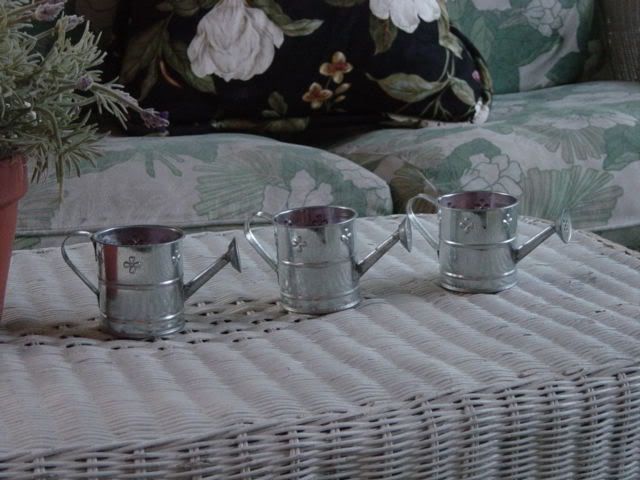 Here is a cute polka dot ice cream scoop -- in action!
And some wonderful pink salad servers which look practical as well as fun. Sorry for the dark picture.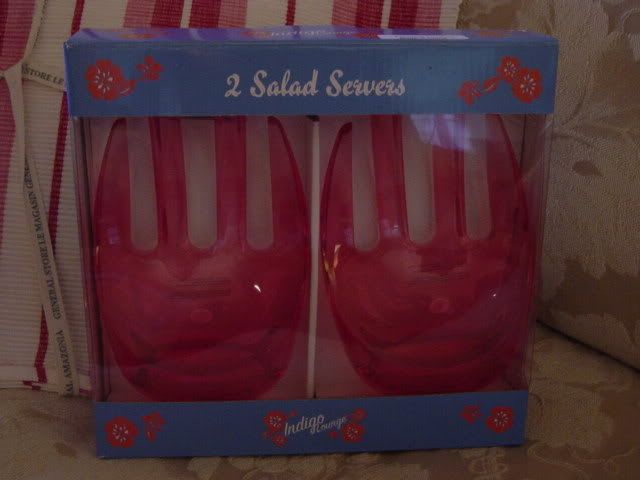 And the last, but so very not least, pink item is Strawberry Honey Soap, which I can't decide if I should use to wash up with or eat!
So here are all the pink items and I've included my pink pocketbook to show how perfect this is for me -- just my taste!
On to the yellow packages -- the Eat and Drink part. Two of my favorite things to do. First is some wonderful Krause Berry Farms Strawberry Syrup, from a farm down the road from her, owned by two brothers she has known since school days, where she also got the Strawberry Honey Soap. I could chug this bottle down right now, but will wait for Sunday breakfast on waffles.
Up next is --can you believe it -- the totally decadent Silver Palate Grand Marnier Fudge Sauce. I see some strawberries dipped in this in my future.
I'm getting thirsty so here is some Strawberry Peach Summer Sparkles drink mix. It makes half a gallon of fizzy refreshing fun and comes with two pink pinwheel straws. I'm a kid again!! Isn't the bag cute?
Jane was paying attention and discovered I adore scones. She sent some Me Mum's White Chocolate Lemon Scone Mix that come with the funniest directions. They start "Directions for yee ta folla: Dump the package into a bowl and cut in a wee bit o' butter . Naw, if yee'd be using that margarine, I don't want ta know aboot it!" Maybe you can read it all:
Isn't that a hoot??
Jane -- did you put up the Peach Chili Sauce yourself? I think this would be fab on fish and it's going on the menu very soon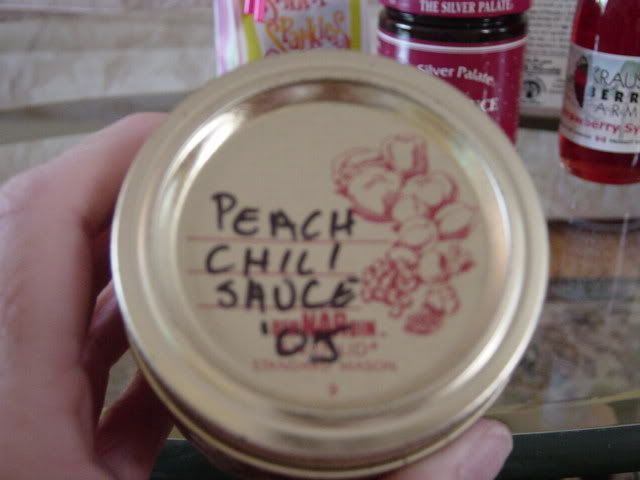 And finally some candy. There were four to start, but we're down to three now. The butter brickle is gone.The candies (Maple Syrup Butter Crunch, Blarney Stones and Demerara Butter Crunch) are from Milsean Creations, right in Jane's home town in British Columbia, from a shop owned by her friend from high school
So here is the whole kit and kaboodle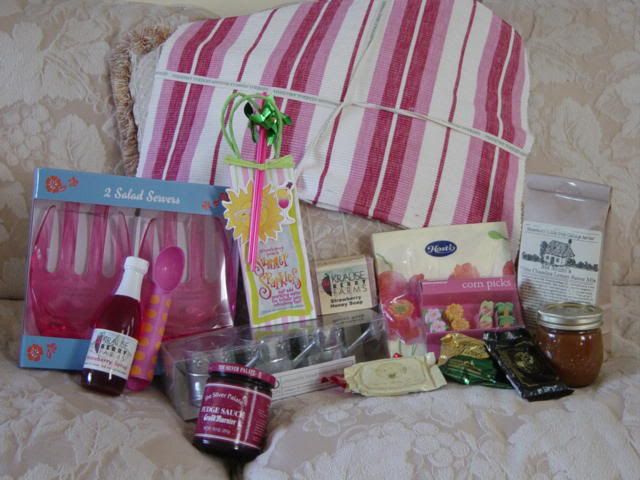 I am overwhelmed and so touched that Jane took the time to find what I like. Scones, peach, strawberries, chocolate and just about anything sweet. I could not have packed a more perfect box than if I had done it myself.
She also sent some tempting travel brochures (I want so much to go there!)from her area and also some grocery flyers. It's fun to see the difference in what's offered and the prices. I nearly fainted at the cost and then remembered it's Canadian dollars. $1.89 for a pound of peaches, when they are 89 cents here! However, they are grown nearby and it's the height of the season here.
And here's what was left after my rip and tear session:
All thse wonderful goodies from Canada. Best of all was a delightful letter from Jane (who is a very good writer), telling me about her life, which sounds like heaven to me. She has five acres of ground in an agricultural area. I have less than a quarter acre, just twelve miles from the center of Philadelphia.
Oh Jane, thank you from the bottom of my heart. I love it all. I haven't had this much fun in a long time! I hope I can meet you some day and thank you personally, dear friend.
Pam