WANTED: Riverrat rocks!
We got home yesterday to find a large box from Fedex. What a treat after a long day of road construction and bumper to bumper summer traffic.
It was a classy box from a classy lady. First I pulled out three beautifully wrapped boxes and a card that told me in what order to open them;
Then I found a cookbook and thought, "uh-oh...she broke the three item rule." But she didn't the first box held some wrought iron...a legged trivet or so I thought. The second box was the other half of the set. A gorgeous sort of brick red beverage dispenser. Perfect. I'd been looking at one at Costco, but decided it was way too big. The color goes well with all the wood tones in my house.
Next was a matching casserole dish with scallopy edges, all from Sur La Table. I love the swirly detail of the glaze on the edges. Beautiful and I can't wait to use them. And last but not least, "What's Cooking: Signature Dishes From Southwest Louisiana". I'll be curling up in my chair with this when I get home from work.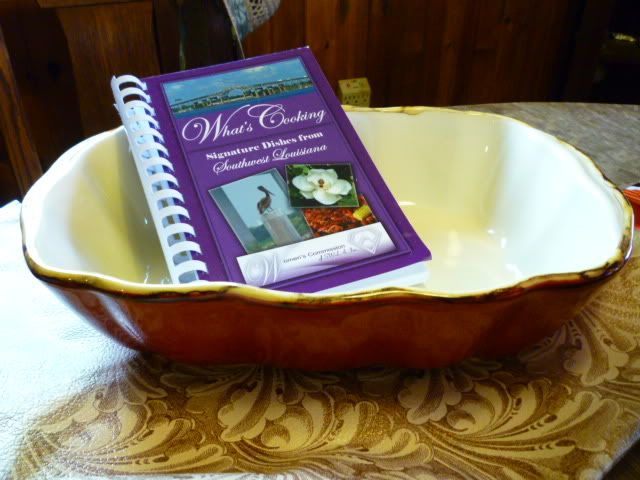 Thank you so much, Karen. I will make good use of everything (DH says we could make sauerkraut in that crock, hehe).