Hot dog man and other munchies from Marigene!!!
AnnT I'm going to get you for this.
She matched me up with the CFer who brought us the Hot dog grilling man.
And its a good thing she did too, becaues Marigene put together a very personalized package for me. That woman must have the patience of Job to weed through all my irreverent posts to find out about me!
Marigene included a note that said 'Read last' so I followed her directions. Don't expect that in the future! She mostly followed the Âfive item rule. SheÂs now a true Cfer, bending over for the rules.
I knew I was in trouble when the box was about the size of one of those hot dog men. David, you showed us yours, now I'll show you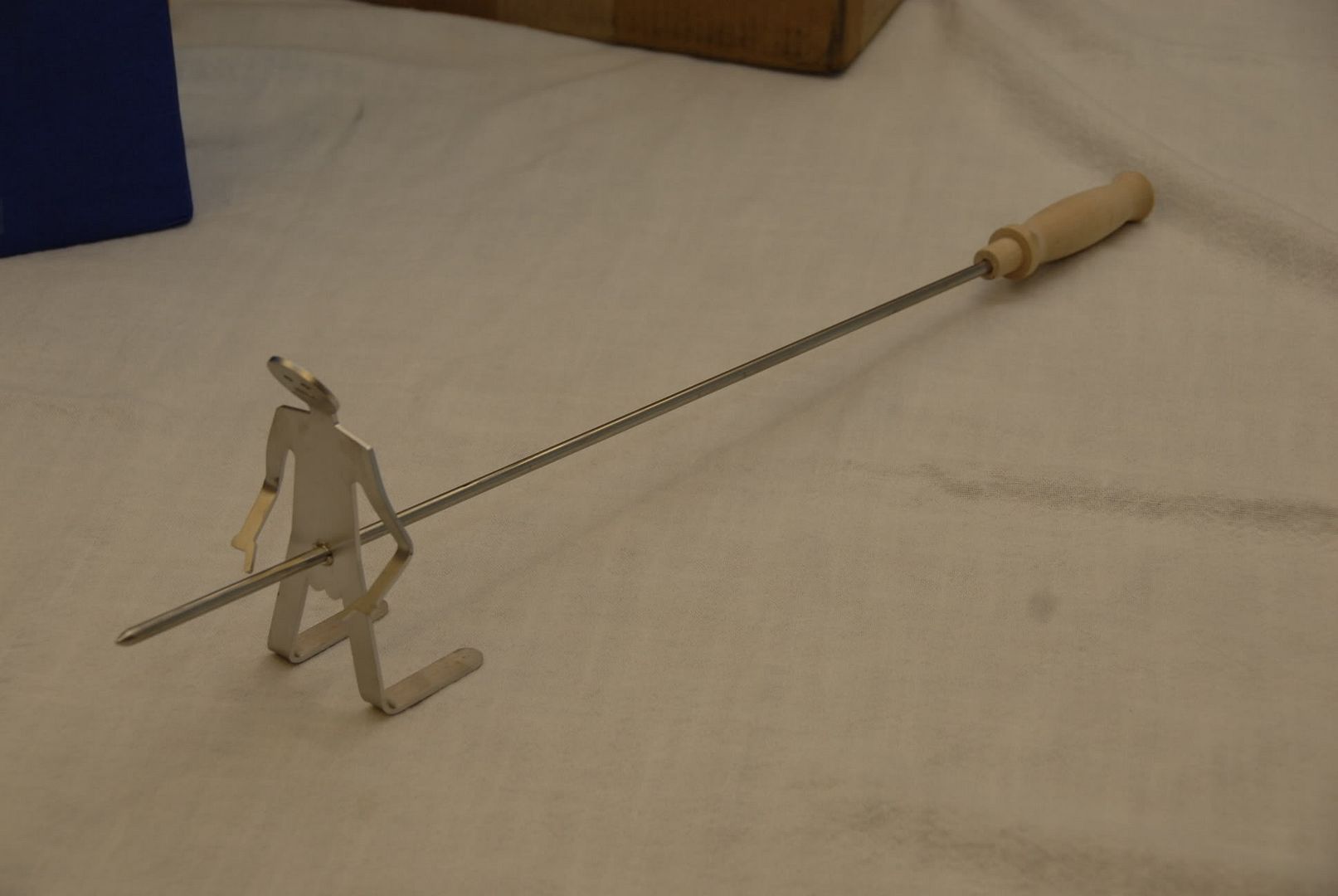 ...lucky I had warned the kids this was coming. ooops sorry about that too.
Knowing I love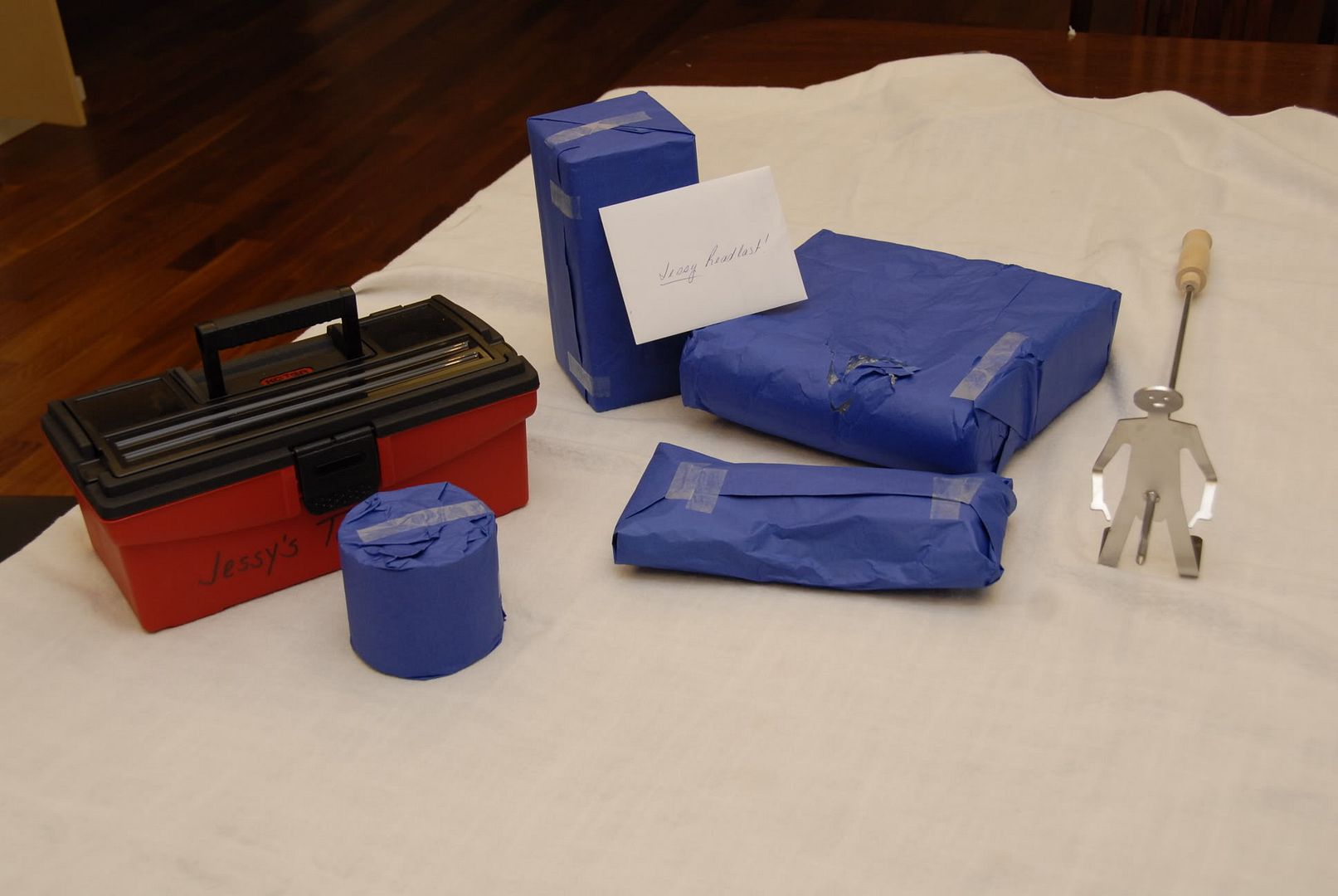 , Marigene wrapped up all the goodies in my favorite color. Except the toolbox, labeled 'Jessy's Toolbox'. That was red  referring to real one I had said I keep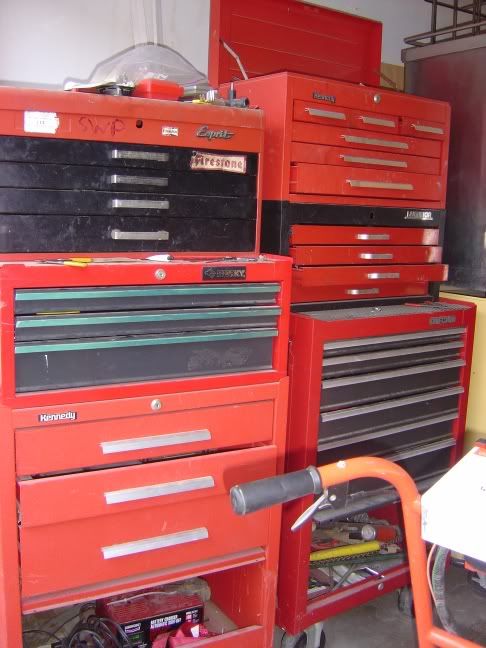 . Marigene had filled this one with more practical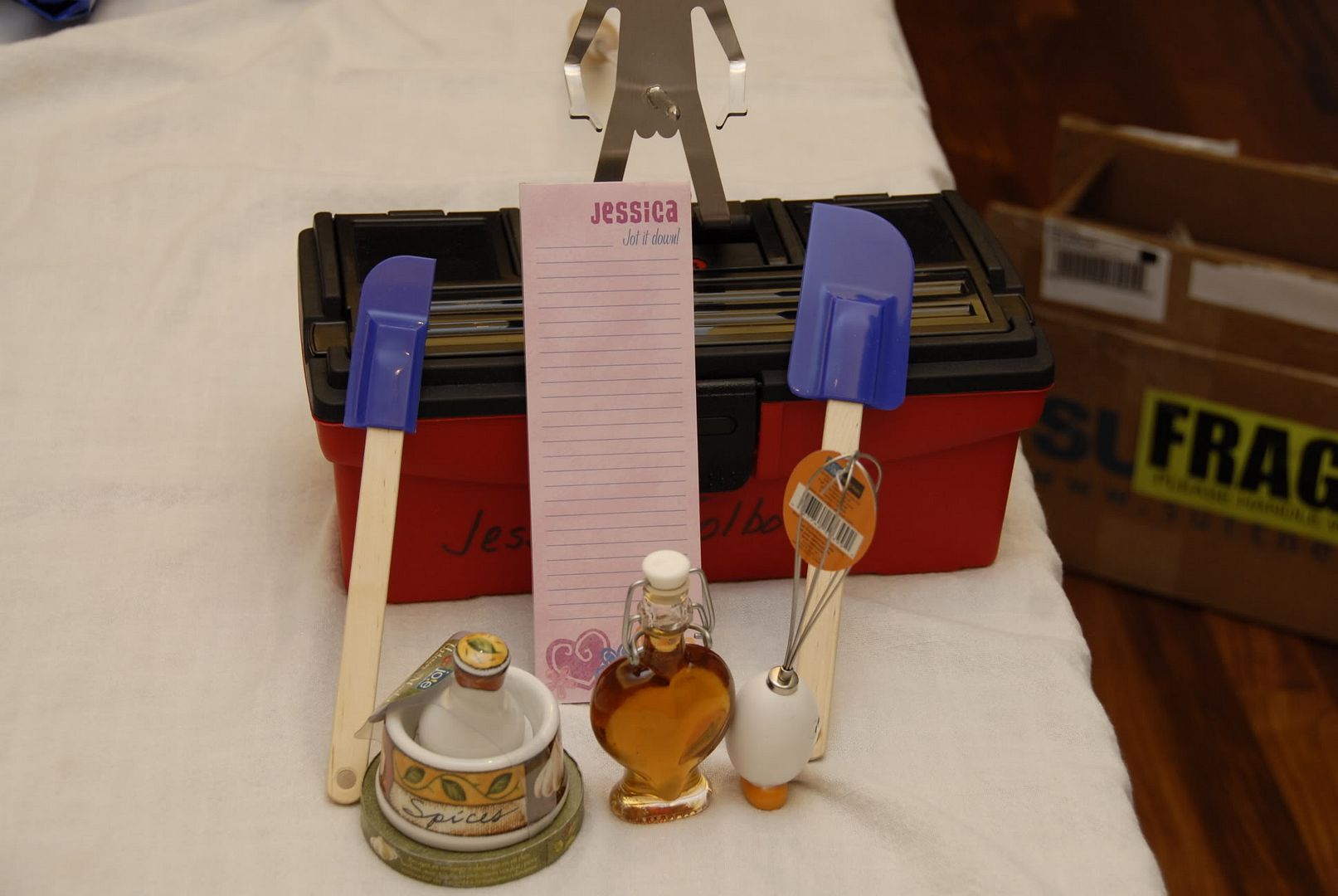 - two blue silicone spatulas, a notepad with my name on it, a beautiful mortar and pestle for my favorite spices, an egg whisk that actually matches an egg separator I own, and a bottle of maple syrup from her native Vermont. Very cute stuff! IÂm actually going to use the tool chest to organize some of my loose ¼ cup Penzeys jars that I have tossed in a drawer.
Next items I opened was a set of beautiful square
- the napkins go well with my current plates, and the new square ones will make great presentations for all the goodies IÂm going to make! DS #2 took great pride in arranging the plates and napkins on Mr. Hot Dog man.
Marigene, reading somewhere that I like regional stuff, also included some AMAZING
that my DH was eyeing (PAWS OFF DH). She bought me Elderberry syrup (never had that, canÂt wait to try!), Blackberry preserves, and, get this, ÂWild Sunflower JellyÂ. Now THAT IÂve never heard of and will be the first for me to open. Oh yeah, and to go with my new cabana boy, you can see a jar of ÂJerk NutsÂ. Get it? Jerk nuts? Arr arr arr.
So thank you very much Marigene, my family had a GREAT time opening the box with me. Now watch my kids will start asking for hot dogs for dinner!