Shower Niche - Install Help Needed
Hello, I am putting in a shower niche. I will be doing the tile myself. The size is about 14" tall by 41" wide. I have had the niche build by my fab carpenter. The cement board put up by the drywallers. The seams were all taped and thinsetted, by me. There is a sloped bottom and top.
Next, I will be putting on 2-3 layers of hydroban.
Then the tile and some sort of counter material for the bottom of the shelf.
INSTALLATION:
I thought I would lay the counter material on the bottom, followed by the back, then the top, then the sides. I want to have the tile edges of the sides and top hidden behind the wall tile, with the sides and top only visible if you look from the sides - not from a front view.
Like this, where you don't see the inside tile edges of the niche on the face: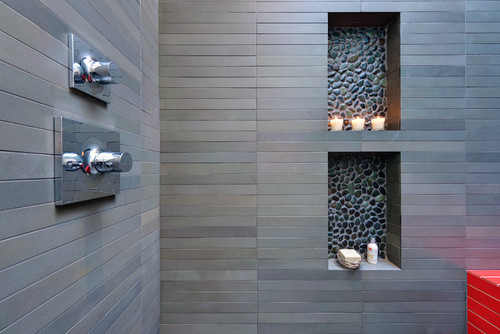 Modern Bathroom by San Francisco Architects & Designers Michael Tauber Architecture
I don't want to do this, where you can see the inside niche tile edges from the front:
Modern Bathroom by San Francisco General Contractors Bill Fry Construction - Wm. H. Fry Const. Co.
COUNTER/SILL - I am having difficulty with this choice. My tile is a porcelain 12x24. I don't want to use the tile for this long shelf base because there would be a seam. And because the niche will be quite a presence. I could put a shower curb there, because it would be long enough. I would have to trim the width down because it only comes in 6" widths at tile store and my rough-in is 4". But I don't like the edge treatment they have on the product, and I don't know if I could finish the edge with my grinder. The shower curb I have considered would be a black travertine that I used for my thresholds. I think it will look good with my shower wall tiles.
My rough-in niche about 14x42"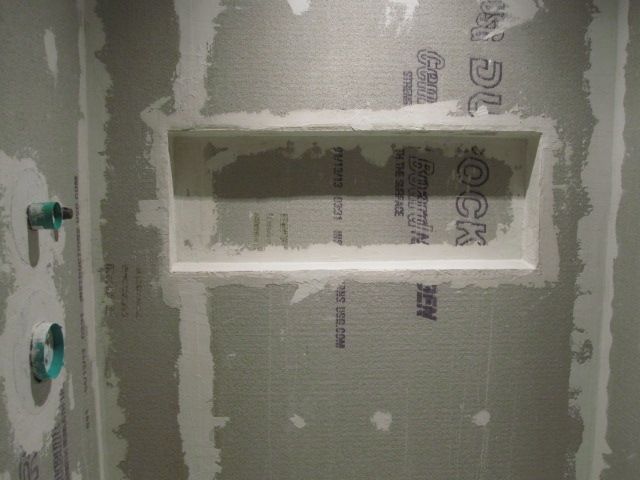 My questions are:
1) is this a good order of installation?
2) how much reveal is best for the counter/sill?
3) would there be a problem if I had no reveal of the sill, or just a very tiny reveal (such as 1/8")
4) If I had more of a reveal what is reasonable? Is something like .5 or .75" a sensible amount or too much?
5) Does my shower curb product sound like a good way to go with the niche shelf?