New Here with Two Design Questions
First of all, let me say I love these forums! You ladies share the coolest advice and have the best opinions (better than anywhere else on the web)!
I've just become a homeowner. First home. A 1930 colonial that needed some work done. We could have left it alone, but we didn't and we are renovating it as best as we can, on a budget.
My husband is handy (I thought he was handier, but now I see his limits, to his defense, though, he's a computer guy).
We've tackled the bathroom first. Completely gutted it. Now we are at the point of tiling and I have a big question where to end the tiles.
If you look at the pictures, you can see that the area around the tub is tiled high and once it comes outside the tub, only half wall is tiled.
I had bought the bullnose tile to border the tub tiles, while the accent tile would be the end of tiling everywhere else around the room.
My question is this: the guy tiling the bathroom is a friend of mine from Italy. He tells me over there they stop tiling just like in the picture, and he considers the bullnose useless.
I look at it and I'm not convinced, but the problem is that I don't like the bullnose bordering it either. The bullnose I have is just like the tiles, except smaller, like 8" x 2" (the tiles are 8x12).
Would the accent border on the side work, maybe just a line of little squares instead of the four that go around the room?
Any other ideas? What do you girls think?
Also, what color would you paint the walls (the floor matches the tiles, too)?
Thank you so much,
Elisa
(for more pictures you can check out my blog below)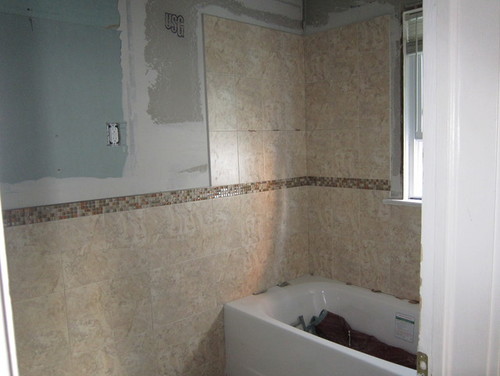 Here is a link that might be useful: Colonial on a Budget
This post was edited by elisa73 on Sat, Dec 1, 12 at 21:37