dimensions for medicine cabinet?
Lauralena
December 3, 2013
Much as I hate medicine cabinets, I have to get one for my bathroom (currently under renovation), as I need the storage and don't want a decorative mirror AND a wall cabinet.
Old bathroom had 24" wide vanity plus a tiny medicine cabinet above it. (See this pic and my follow-up pic). There's a toilet to the right of the vanity, visible only in the pic connected with this first post.
I like these (see link below), but I don't know what size to get. Bathroom will be floor to ceiling beige travertine and don't want to detract from the tile. When you walk into the bathroom, it's @ 4 1/2" x 4 1/2" (not counting mostly closed off alcove tub/shower). Facing you will be the vanity (24" x 36"), the toilet to the right of it, that's it. Ceiling is 8'. Would the 24" x 36" medicine cabinet (same dimension as the vanity) be too big? Should I do 24" x 30" or 25" x 26"? Or should it be narrower than the vanity (20" or less)?
There will be a little less than 5' of space above the vanity. I will probably put a vanity light above the medicine cabinet, a there's no room for a wall sconce on the left side.
The talented people on these boards have been so helpful to me in the past. Hoping someone can weigh in. Thank you all so much!
P.S. Already bought the vanity, so if anyone can think of any better storage solutions (you can see I'm pressed for space) than a deep medicine cabinet, please chime in.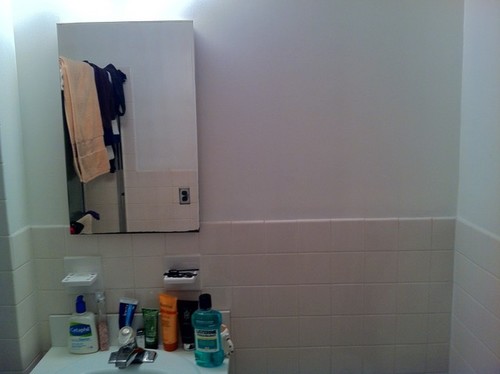 Here is a link that might be useful: Kohler medicine cabinets
This post was edited by Lauralena on Tue, Dec 3, 13 at 17:32