Bill V, Mongo & other tile experts: Shower Questions
Our shower tile has no bullnose available. Bill or Mongo and anyone else who would like to comment, please offer your opinions on which options would look best.
Tile the shower only (to the ceiling) stopping at outer edge of curb, (not at dark line) and use stone pencil rail to cover the edge where the tile meets the wall.
Or
2.Continue the tile to the end of the wall, eliminating the need for a trim to cover the edge. Here is a picture. (The walls will be repainted a more neutral color.) I apologize for the tiny pictures. They weren't that small when I uploaded them to Photobucket.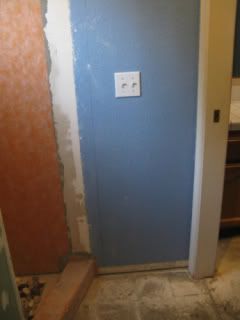 We're planning to use pencil rail around our niches as well as above and below the stone and glass liner. Would it look best with pencil around the window as well or could we just overlap the tile there? The pencil trim has a higher profile than the tile. Should all of it be cut down at the back to make it more flush with the tile if we use it to cover the edge where the tile meets the wall?
Trim will be needed on the opposite wall where the half wall ends or maybe we could try to bullnose this with a router? The color of the tile edge nearly matches the color of the tile face.
I know it's all a matter of personal preference but I have a hard time picturing the finished product. So many decisions are driving me crazy. We had purchased some flat 4 color pebble tile for the shower floor but the colors are very inconsistent. I think it looks too messy. The floor is about 18 square feet. Do you think it would work well if we cut our wall tile into 4 inch squares to use for the floor? Could we just sand the edges to make them smooth or would we need to use a router? Our tile is rectified porcelain and we'd like to use 1/16 grout lines if possible. My husband will be doing the install himself. He is very handy but has limited experience with tile and has never attempted a shower.
One more question: For the outside corners (curb, corners of freestanding wall and post) would it look professional enough to overlap the edges? After reading some of Bill's posts stating that mitered edges are sharp and can chip easily, we've decided not to go that route. However, I'm wondering if it would look tacky to overlap in these areas.
Sorry for the multiple questions and many thanks for any advice.