Our minor bath reno moved to the top of the list - help?
clubcracker
December 5, 2011
Hi all,
Our house was built in the 1750's, it is a Cape in CT. It has a master bed/bath on the first floor with tiled shower that works great for DH and I. The 2nd floor bath is in need of an update but the kids liked it fine so no rush.
Well now the old tub faucets are trashed. I had been having more and more trouble turning the cold on and off, and then while I had kids in the tub the other day some black fluid leaked out from under the faucet so time to call in the plumber.
Turns out there were old, old fittings behind this old tub set and they are shot. Water was leaking in slowly and deteriorated a rubber gasket (fortunately the black fluid was only the black rubber material).
We are keeping the tub and the room is so small I think the layout needs to remain the same.
I need to immediately find an 8" spread, wall mount faucet set, and I'd like to add a shower (hand or wall) while we're at it since the tile/wall around the existing faucet is going to be opened up.
The vanity can be replaced with another vanity or a pedestal - thoughts on that? There is a large cabinet in the hall so we do have some storage outside the bathroom.
I'd like a white sink/vanity/pedestal and toilet, and want to replace the existing floor tile with hex or something else that's classic, old house appropriate and fairly simple for the DIYer to install.
Question - is it crazy to consider radiant flooring? there's only about 4' X 4' of actual floor space in the room, and it tends to be chilly up there.
The plumber will do the faucets and fixtures; we may have a carpenter re-do the framing on the tub faucet wall, but the rest will be DIY. New paint, may as well re-do all the tub surround tile since we're taking out the faucet wall as well...
So here are some pics of possibly the world's ugliest bath...lol. Suggestions and thoughts welcome!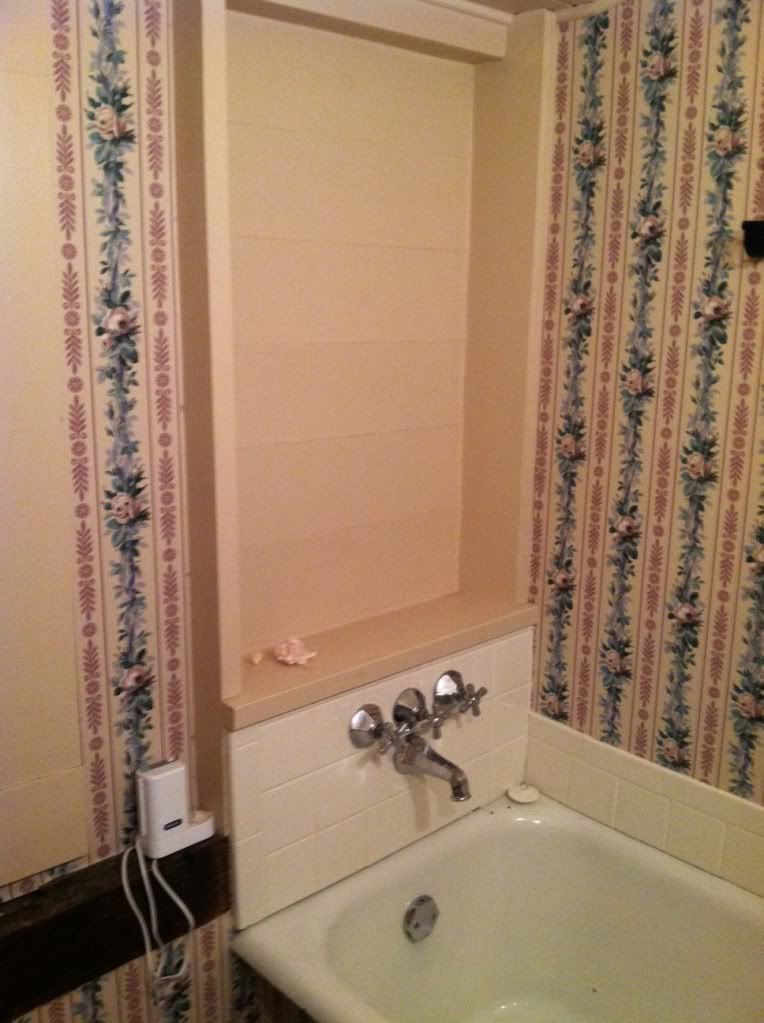 This was once a window, I assume, before the roofline was extended in the 70's to allow for a kitchen/family room addition: