WANTED: Whooo hooo I got the first box! Thanks Sylvia!
Whoo hoo I got it I got it [pressure is on, oh my]
I found a box on my porch and although I did not initially recognize the name, I am a sufficiently veteran swapper that I can tell one a mile away :-)
I had to finish up some projects before I tore into it so I was on my best behavior to get my work done. That's a first, ha, I'm such a procrastinator.
Sylvia sent a nice note saying that there was a winter AND a Valentine's theme! Blue for winter, red for Valentines. Could also be political, LOL, but I don't think so. She also sent an Orlando magazine so I could learn a little about the area. I was there once, before kids, in dinosaur days.
Here are all the items, wrapped up from the box.
Unfortunately one didn't make it, even though it was wrapped in bubbles. The box wasn't damaged, it must have been thrown real hard during it's travels.
The survivors included a BEAUTIFUL Polish ceramic piece. I always look at those and lust when I see them but I have never gotten one for myself!
She also included a two tiered cake plate, perfect for Romantic desserts. I'm actually going to use that to bring desserts to a function next week!
The practical part of me loves the non-stick carbon knife. I like new knives. I know good quality ol ones are the best, but I like new knives and I'm sticking to it. This one might go into the bedroom toolbox to keep DH in line, LOL. Just kidding.
Pictures! Thanks again Sylvia!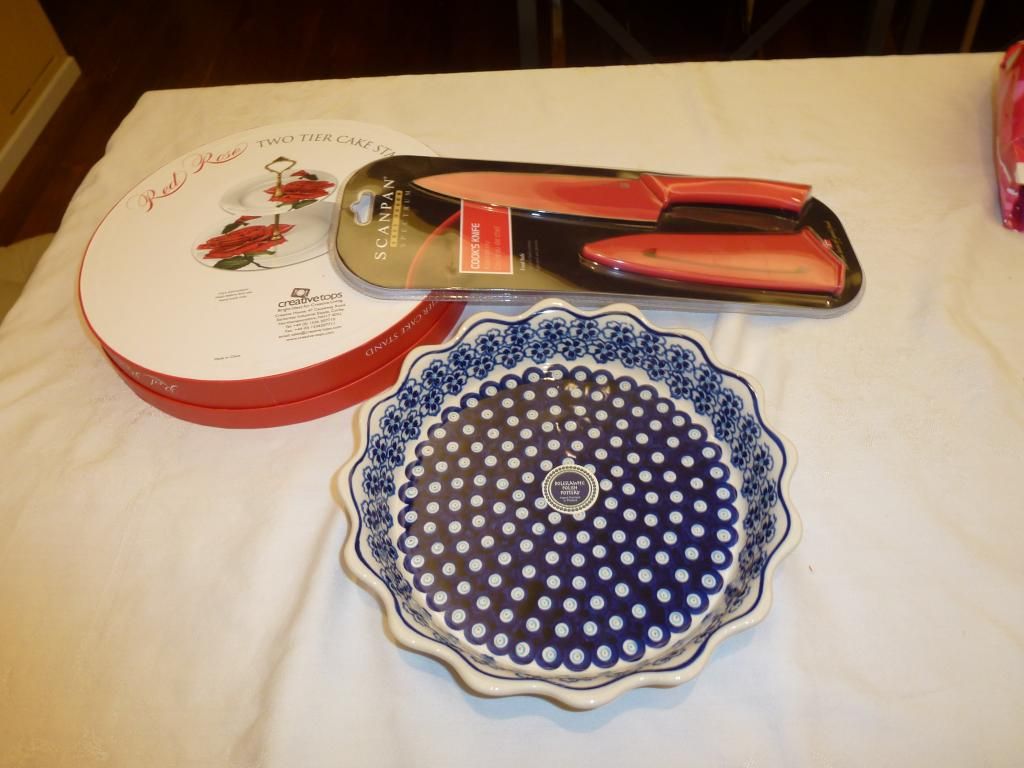 Broken pie plate....I've noted for my own wrapping job!