WANTED: Mardi Gras in Michigan!
annie1992
January 31, 2013
Hooray, my swap box is here!
A few days ago, I found this on my porch: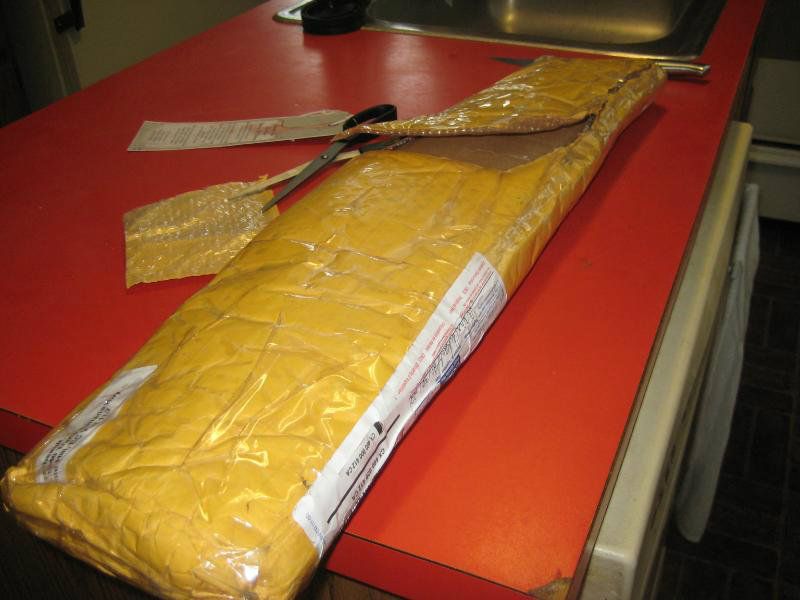 It was from Ann T, and I thought "yes, Ann T is my swap partner". I opened the package and found this: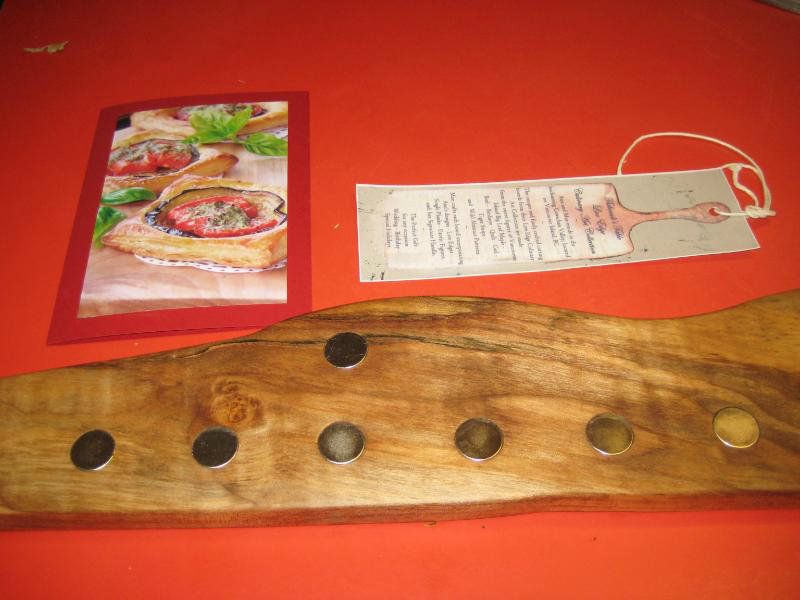 The note said that my swap partner had purchased this knife block for me and wished me not to post until the rest of the package came. Now, of course, I'm in "high anticipation" mode, I've got one of Moe's handmade knife blocks, what could possibly be following? And from who? Where the heck is Sherlock Holmes when you need him? (grin)
This morning the mail delivery lady brought a box. It was from Louisiana! Yes, my swap partner is Karen/RiverRat, and I just knew she'd send me a box of Louisiana sunshine. She did, this was in the box. Note the wrapping, she said it was a combo Mardi Gras/Valentine's theme. (grin)
I impatiently tore open.....um, patiently unwrapped the contents. Yeah, that's it.
First, a couple of wine glasses for Elery and I. Red Solo Cup, with a nod to Toby Keith, LOL. These, however, are reusable and dishwasher safe! And a ceramic knife that folds up like a pocket knife. I guess she read that thread about how I tossed a ceramic knife into the drawer and chipped it, not going to happen with this one!
Folded up: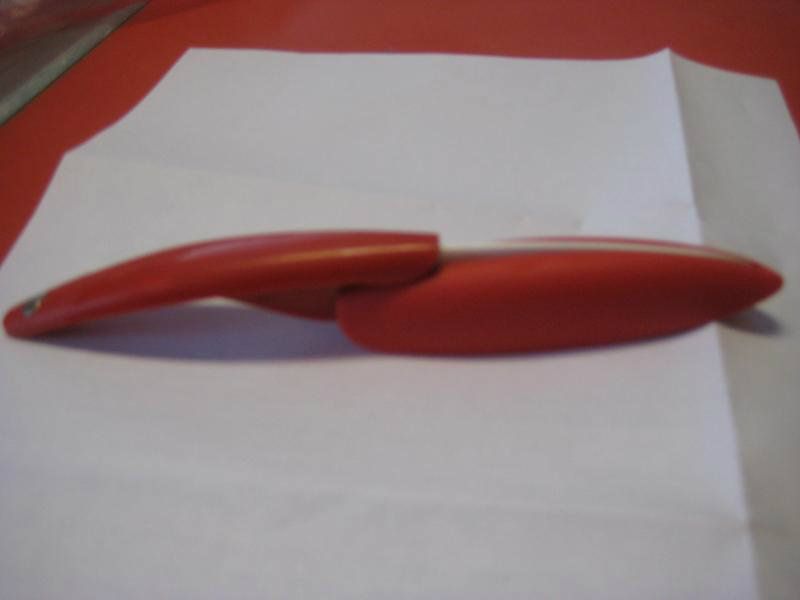 Opened for use:
The hats/beads/masks/tokens were all packing material, and designated for the grandkids. Off to the far right you'll see a photo of Karen and her DH dressed as King and Queen of Mardi Gras. Queen Karen and her King reign until February 2, so now we must refer to her as "your highness".
The tokens/coins are from Karen's extensive collection, I found this one from 1973, the year I graduated high school!
There were various tokens, clear back into the 80s: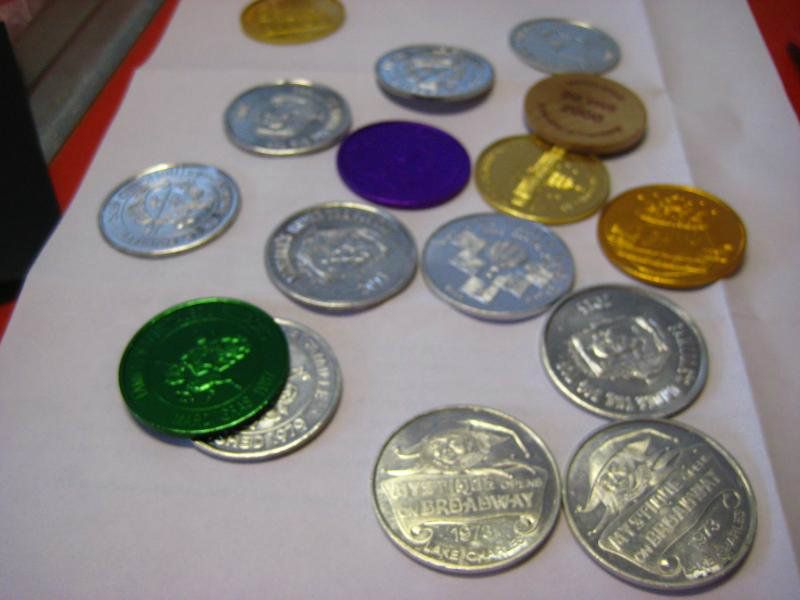 Karen included a note saying that she was kind of a redneck at heart, hence the Red Solo Cups, and the knife is one of her favorite utensils. The spatula is for the cake she knows I'll bake for Valentine's Day, now Makayla will have her own!
The kids are going to have a ball with the party stuff, now I have to make a King's Cake and have a celebration in Honor of Queen Karen. In the meantime, Elery modeled the hat and mask.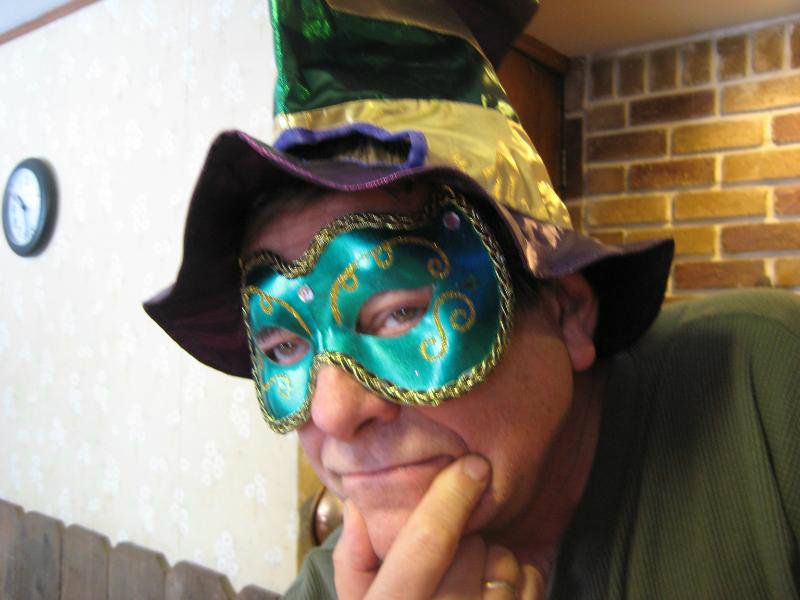 No photos of him with the beads, or what happened to make him earn them. (grin)
Thank you, Karen, I love it all. The knife block is perfect, I have very little counter space or storage, so I can hang this on my wall and free up some space currently occupied by a knife block. It's beautiful and perfect, and a special thanks to Ann T and Moe, for choosing and handcrafting such a lovely and useful kitchen item. It'll also be perfect when we finally get around to building on the farm.
And now I've got to get busy packing and mailing mine!
Annie