WANTED: I'm now an honorary Jersey Girl! Goldgirl is too!
riverrat1
January 26, 2013
Holy Moly! Goldgirl has packed up a Jersey Girl Winter Emergency Kit for me. So nice!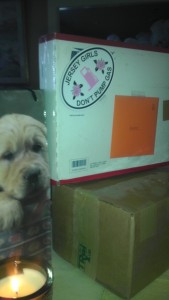 We have 4 large cans of Jersey Tomatoes from the Garden State! I'm thinking we may use some of these in a dish for the Valentine virtual dinner. These tomatoes are encouraging me to participate! I haven't had a chance to look through the cookbook that was included in this package. "Celebrity Chefs of New Jersey". I'm also thinking it would be a great opportunity to find a recipe in this book to cook for the virtual dinner. Such fun!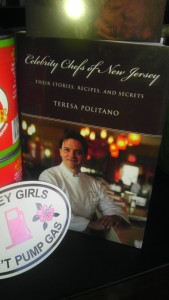 A good strong cup of dark roasted coffee in the morning is something that is a must have for us. Now we have a big ol bag of Bold Justice Blend. "Before Justice Alito, a jersey native, was appointed to the Supreme Court, he was Judge Alito for the Third Circuit in Newark. As the story goes, his law clerks convinced TM Ward Coffee Company, a Newark institution since 1869, to name his favorite blend in his honor. He still stops by the coffee company when he's in town." It seems we will be enjoying some famous coffee!"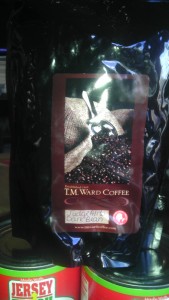 The next item is from a local potter in her area. I love pottery and this will be used often because we include garlic in almost everything we eat. It's a garlic grater! The colors are amazing and match the cabinetry in my kitchen to a tee.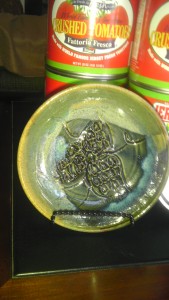 Goldgirl, This swap box is perfection in a box and I'm going to enjoy every single item. I'll proudly display the fridge magnet because I don't like to pump gas but self serve locations are taking over our city. Gone are the days of a full service gas station. Thank you so much! It will be nice to sit in a rare quite moment, with a cup of the Justice Blend, and read all of your local newspapers and the cookbook. That my dear is genius to include your local newspapers!
Goldgirl also included a lovely letter with information about her life which I enjoyed reading. It's nice to know a bit about our swap partners! Very cute card with an image of a Golden Retriver and a 3D butterfly on it's nose:-)
Here is everything put together. Thank you again for a memorable swap box! I love it all!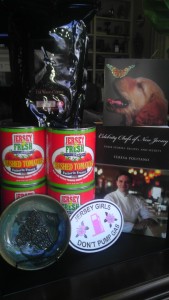 The pictures are a little small but I couldn't change the settings for some reason.