Master Bath 'Minor' Remodel 99.9 complete
Thanks for the help and advice (esp Bill and Mongo) when I had to start over with my Kerdi shower due to the tilesetter using adhesive.... It has taken a while to post the pics and I didn't take time to take any before pictures.
Basic story is we acted as GC when we built the house in 1985 and this is our first remodeling of any sort in the bedroom/bath areas of the house. I think if you do it right the first time, it can last. But the fiberglass shower had to go, so we updated it all. The original Kohler fixtures that were a sort of purplish brown color, wallpaper was okay but a little dated, faucets etc were brass and we never used any window treatments.
What was kept:
The floorplan and all cabinets and trim. When we built the house we used inexpensive stock that was really supposed to be painted and used Benjamin Moore Stays Clear tinted poly. This bath has a dark tint but the rest of the house is more of a honey color. I added another coat during the remodel to freshen it up.

Flooring. Kept the original sheet vinyl called Armstrong Custom Corlon. It is smooth with no texture and looks like Terrazo, I couldn't see pulling it up as it is perfectly neutral.

Original light fixtures above vanity (still classic) and recessed light locations above tub.
Changed:
1. Countertops from a swirly cultured marble that was a brownish color to granite.
2. Sink AND tub became undermount Kohler and faucets etc brushed nickel.
3. Prefab acrylic shower that was a brownish purple with textured track doors was pulled out and a porcelain tile Kerdi shower with frameless french doors installed in the space.
So here we go: The tub is the same Kohler 6' Carribean as 24 years ago, just a different color and now undermount.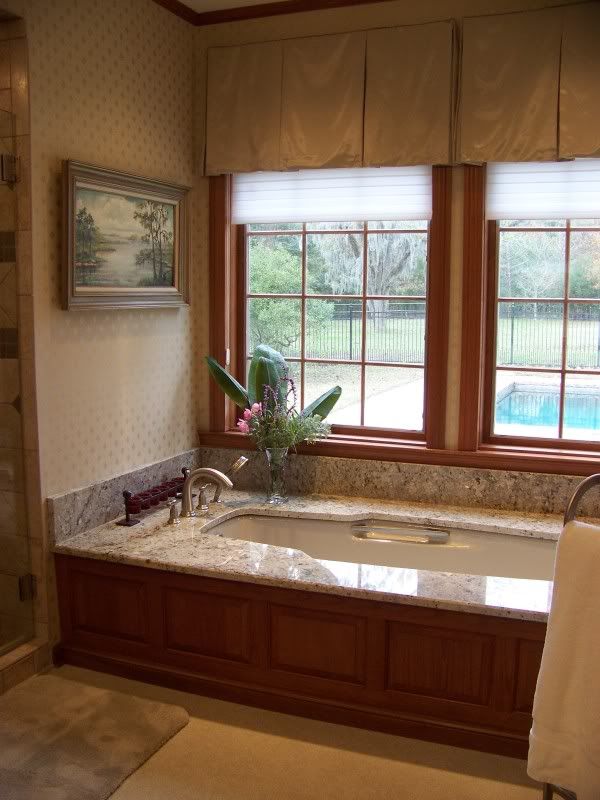 Added a handshower to the tub area and you can see the Thibault wallpaper that has a simple cream background with a silver swirl.
New undermount sink (I'd rather have the long counter than two sinks!!) and reflection in full wall mirror of the cabinets and shower:
Vanity, new knobs, edge of pocket door entering bathroom: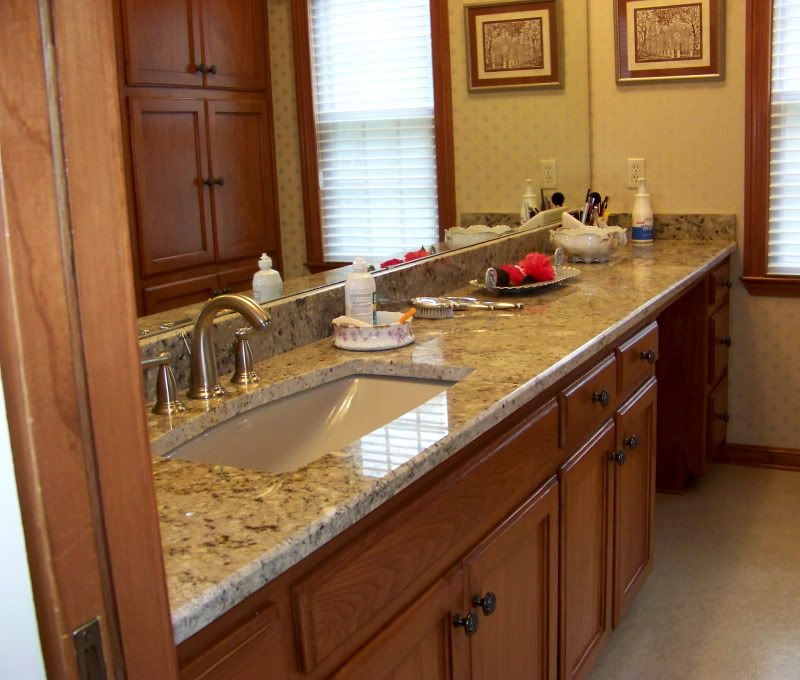 Porcelain tile shower, marble seat and shelves in niche, Hansgrohe faucets etc
Frameless french doors open fully in and out.
Niche detail: Marble top and bottom and center shelf (two pieces of marble with a "face plate" to hide seam on shelf)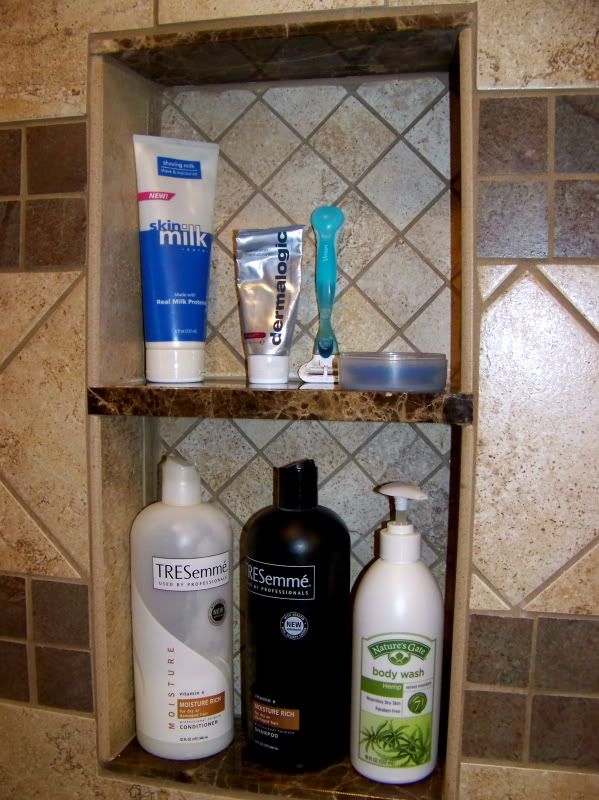 Shower configuration:
Pocket door entrance (still need to frame the mirror!!)
Toilet area with new Toto Drake