Sharing my Bathtub Research
Everyone has been so helpful, so I thought I would share our bathtub search experience. The bathroom we are doing will have a shower over a tub and I like taking baths as well.
I was dead set on a cast iron tub until I realized that all of the cast iron tubs manufactured now have a non-slip bottom. I found out that this non-slip bottom is challenging to clean. I even went and looked in the showrooms, and sure enough they were all gray. My research on gardenweb and talking to contractors/plumbing stores also confirmed that they were difficult to clean. Not impossible, just difficult and I just wasn't up for the challenge.
I was very reluctant to go with fiberglass since our current fiberglass tub looks yellowed and horrible. However, I've been told they are built much better now, and we went with a thicker model. I also wanted one with a built in flange.
Next, came the height. I wanted one deep enough to take a nice bath, but not 20 inches high because it is higher than I want to step over as we age. Why don't more manufacturers make tubs 18 inches deep? Why are most 14 or 20?
We considered:
Kohler Bellwether - did not like the nonslip surface, but like the shape
Mirabelle Edenton - saw some complaints about chipping and not draining properly. I visited Fergusons, and the salesman did not deny it and said it was up to my contractor to test the tub. My contractor said he has installed these tubs without a problem, but it was higher than I wanted and decided it wasn't worth the risk.
Hydrosystems Lacey and the Sydney - both 20 inches high or higher
Americh Turo - after much research, went with this tub. Our contractor said these are good tubs, and the Plumbing store said another contractor installed it in his own house. It's only 18 inches high, 32 inches wide (also comes 30 wide), but has a deep bath. We purchased the non-airbath model. It has arrived and we're very happy with how it looks. Here is a picture of it. I'll post better pictures after its installed, but thought this may help someone else out who may be looking for 18" height tub.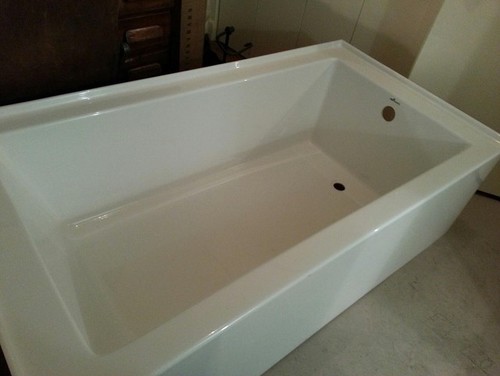 This post was edited by belasea on Mon, Dec 3, 12 at 1:18