tub/shower wall tile decision
I've been researching kitchens for almost 3 years and here we are, redoing the boys' bathroom instead. It's a forced renovation, thanks to a toilet flood 5 weeks ago (what a mess!). So I'm in scramble mode, learning about bathroom reno and I'm really hoping you will help me.
We've chosen all elements but I can't decide which way to run the tile in the tub/shower area. I've looked through houzz.com so I know we can choose between staggered or ... railroaded? Is that the proper term for when the grout lines line up like a grid? Anyhoo, I can't figure out whether these choices are guided purely by style preference or if there is some logical reason for choosing one over the other.
Here are our choices, in case it makes a difference to your answer.
Counter (a remnant piece of Pental Chroma Mohave polished)
Floor tile is United Tile Provenza Sand, 12 x 24

We're running this lengthwise through the space, staggered grout lines.
Backsplash and tub/shower accent tile is American Olean Cepac Serenity in Mountain Meadow,
And finally, the tile we've chosen for the tub/shower wall is Pental Urban Life Parc Noce Matte in 12 x 24 size.
My first thought was to run the 12 x 24 tiles horizontally because that would make it easier to insert a band of accent tiles. But then I chose the shower niche, which is 14 1/4" wide and 22 1/2" tall (two compartments) so I started thinking that maybe I should run the tiles vertically, not horizontally. And do I stagger the grout lines and make them line up?
Here's the floor plan for the space.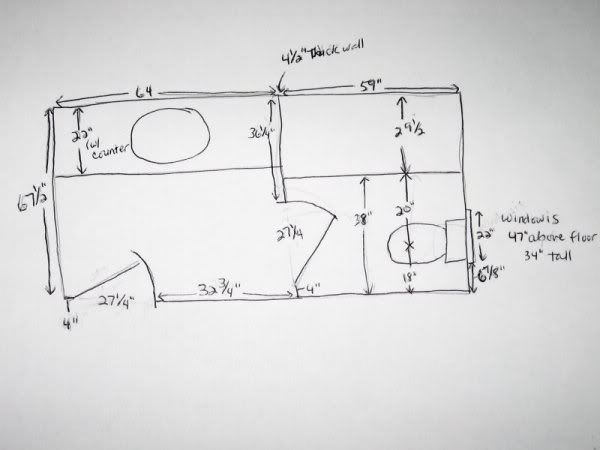 The door between the two rooms is going away and that opening will be widened as much as possible. The toilet is currently in the tub but it's not staying there. Although, as my eldest pointed out, they won't have to worry about their aim if it stays in the tub. ;-)
I'm decisioned out so I need your help! TIA!