Frigidaire Gallery FD Fridge- does it look cheap?
We need a new refrigerator ASAP and since we have a SS GE Profile range and micro/hood, I'd like to stick with SS. I've had top of the line GE Profile refrigerators in the past and was never all that impressed, and even with a family employee discount they are still around $2,500 for the size we'd like. Looking online I saw the Fridgidaire Gallery FD 27.7 Cu ft at lowes for $1,700. Online it looks pretty nice and it appears that the handles are fairly close to the curved GE profile ones.
Anyone have any experience with Frigidaire Gallery refrigerators? Are they decent looking?
I don't want a cheap looking fridge, yet I don't want to invest much as we only plan to be in this house a few more years before we build our dream home and rent this one out.
Here's the one I'm looking at: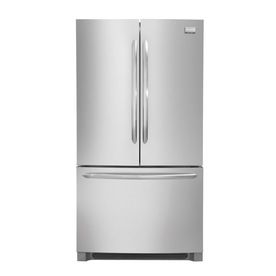 AJ Madison appears to have an very similar model for the same price (would save on tax- which is practically 10% here), but I'm not sure what they'd charge for installation.
Here is a link that might be useful: Fridgidaire Gallery 27.7 cu ft SS model #LGHN2844MF @ Lowe's