Imitation Calcatta Gold Porcelain Tile
Lauralena
November 11, 2013
Note: I posted this same discussion on Houzz, so my apologies for anyone who is stumbling upon it twice.
Looking to do my bathroom in imitation Calacutta Gold porcelain tile (I don't want the upkeep of marble), 12 x 24 on the wall, 12 x 12 on the floor. Someone said on Houzz and/or Gardenweb that the matte looks more realistic than the polished. However, where I live (LI) I'm seeing either very realistic-looking polished porcelain OR matte whose texture is so dull and flat that it's so unlike marble. (NOTE: My contractor doesn't want me to have tile shipped in from out of the area. In case there's breakage during shipping or construction, he wants to procure the tiles locally.)
I found one tile store that has very nice 12 x 24 polished porcelain Calacatta Gold, shown below (tile is made in Italy; don't know the brand). Though polished, it's not as glossy as some of the others I've seen. The print is very realistic and there are not that many repetitions in a box. I might go with that for the walls. Unfortunately, this doesn't come in a matte finish. The salesperson had a 12 x 12 matte finish in Carerra for the floor, so I'll probably go with that. I have a tub, so I don't have to worry about a shower floor. But nonetheless, I'm worried on slipping on a polished surface, especially getting out of the deep soaking tub. The matte Carerra print has the same color background color, so it does go with the Calacatta print walls. Because of the tub, I have a very small floor area (guessing about 15 square feet). NOW here's the "but." The matte Carerra is so matte as to appear/feel FLAT (both in texture and look).
I guess what I'm asking is this:
� Is there such a thing as a matte porcelain Gold Calacatta tile that resembles the look of HONED marble?
� Has anyone used polished Gold Calacatta (or Carerra) porcelain tile on both their walls and floor? What's been your experience?
Thanks!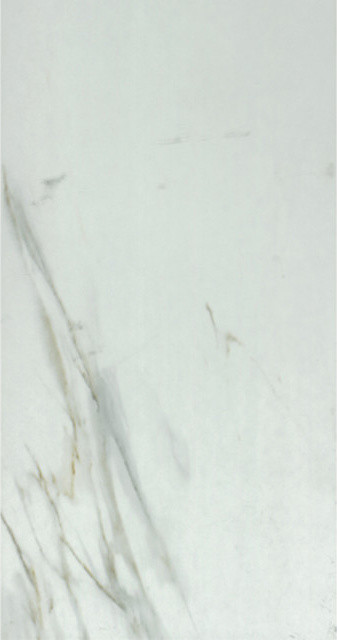 This post was edited by Lauralena on Mon, Nov 11, 13 at 10:20