Tips/warnings re freestanding range leg/anti-tip bracket?
Artichokey
September 25, 2012
I inherited a mess of an appliance layout when I purchased my house; in an attempt to get 30" between the fridge and the range, I shoved the range over with my whole body weight. I had never heard of an anti-tip bracket before (which is both baffling and embarrassing), but now the leg that fits into the anti-tip bracket is turned sideways - and of course, the range should be reinserted into the anti-tip bracket. I did not receive the manuals for the appliances, but it's a Frigidaire LFGF3027LWB, which looks like it's essentially the same as the FFGF3027LW (http://www.frigidaire.com/products/Kitchen/gas-electric-ranges/FFGF3027LW.aspx): freestanding 30" gas range.
I assume that (basically): the range needs to be pulled away from the wall, tipped forward so the leg can be screwed back in, then shifted sideways slightly, and finally pushed into the anti-tip bracket.
- Shutting off the gas line and the circuit to the range seems like a good idea. Anything else related to the gas connection that I should worry about?
- Is there any way to tell whether the leg is broken/bent before tipping the range?
- Could three non-linebacker adults safely do this? (Two to support it, one to screw the leg back in. There's a lightbulb joke in here, isn't there?) It looks like the door locks via the electronic control panel, but I can't tell if it would remain locked once the circuit was cut.
I appreciate any suggestions/information/warnings!
(Gardenweb keeps uploading the image upside down, no matter how I rotate/save the image before uploading; the range is mounted to the floor, not the ceiling: promise! The leveling leg is entirely free of the anti-tip bracket.)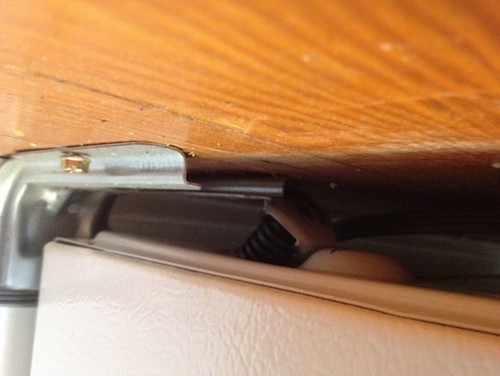 Here is a link that might be useful: Frigidaire FFGF3027LW