Access to plumbing (long)
Hello everyone -I usually hang out in the Texas gardening forum, but have been lurking on this forum for a while. I'm hoping someone will be able to offer suggestions about a problem we're having planning our bathroom remodel.
A little background - The house is a one story ranch style house built on a concrete slab in 1967. Supply lines were moved to the attic space by the previous owners due to repeated leaks, but nothing else has been updated in the bathroom. This is the third phase of remodeling the house. The kitchen was done first and then the main living area. We've gutted rooms, updated lighting and electrical as well as new drywall, insulation, and plumbing. This is our forever home so we really want things done right.
The bathroom started as just changing out the vanity to give more floor space, but when we found mold in our other smaller bathroom redoing both bathrooms moved to the top of the list. So the vanity is built, but nothing else is done yet. We've decided to hire a GC (we GC'd our other projects) because bathrooms and plumbing in our opinion are a separate animal.
A big priority is being able to access any pipes we need to get to if they get clogged. Twice in the 10 years we've lived here there has been a problem with the tub drain. A plumber came the first time and after trying to access from 4 different areas (including the roof) he had to tear out part of a wall in the adjoining bathroom to be able to unplug the drain. The second time we ended up having to do the same. Having to patch the wall is a drag. The plumber told us to expect to have to replace most of the pipes when we got around to doing the bathrooms due to the amount of corrosion. Since the water is very hard in this area I'm not surprised.
We initially considered moving the shower controls (wall shower and rain shower) to the opposite end they're at now to be able to build an access panel in the living room wall. The last GC we had out to put together a bid said they would be able to put in an access panel in under the sink under the second bathroom to get to the pipes if needed. That would be my first choice, but I'm having a hard time visualizing how that would look. I'm hoping someone here knows how it might be done.
This picture is in the adjoining bathroom under the sink and shows the pipes shared between between the sink and shower/tub in the main bathroom.
Lisa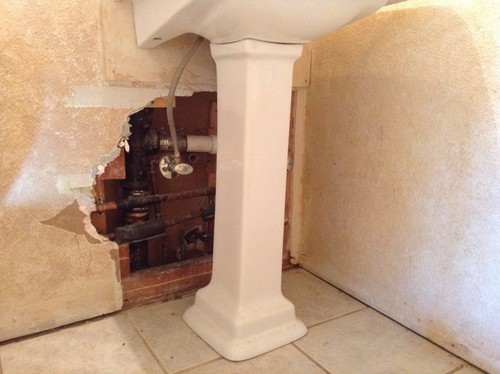 This post was edited by southofsa on Sun, Oct 6, 13 at 14:18