Mongoct, Durock, Help Needed
1) Do I need to use special screws to mount Durock in the shower if I will be covering it with Hydroban as my moister barrier? I had drywallers hang the stuff and they used regular drywall screws.
2) The drywallers also did a sloppy job with the openings around the rough-ins. There are gaps that are up to 3/4" on the sides of the rough-ins.
Example of the large margins around i-Box: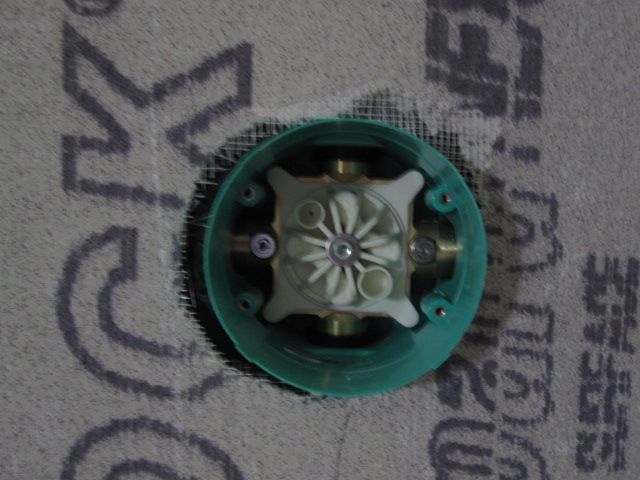 Close up of black inner ring and wood showing: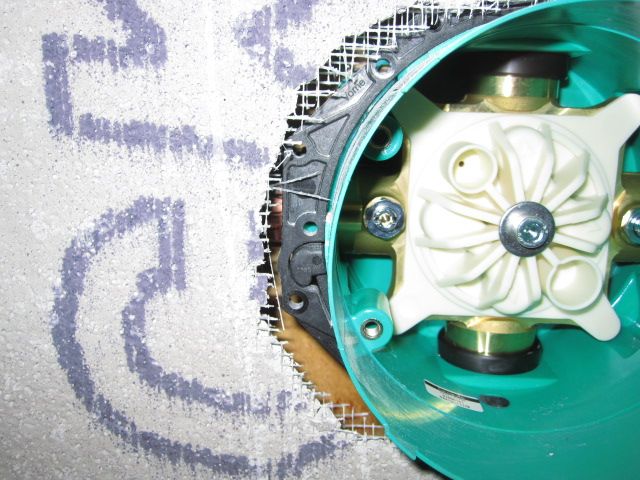 I have the Hansgrohe i-Boxes. There is a black plastic ring that surrounds the round housing and allows for adjusting (I believe that is the purpose). The plumber has the i-Boxes located were I want them, but the Durock hole is too big and this black ring is exposed from behind the wall. These roughs need to be finished at the Durock surface with a non woven paper like facing, then caulked, then my Hydroban applied. My question is, can I just fill in the gaping Durock hole with thinset to bring it up to the edge of the rough-in? This would cover these black surrounding rings with thinset if I did this. Or otherwise do I take down the board and replace with another board with better fitting holes?
3) On this same board, the board is about and inch above the shower pan's cast iron tile flange. Is this another reason to take this board down and replace with a better fitted board?
Ick I hired this done, and didn't notice it was done poorly until they were done and gone. It is a reputable company and I could contact them to fix this. They subcontracted this hanging job to a few guys because my job is so small.
I am doing the tiling and can fill in the rough-ins and the tile flange with thinset if that is ok and just leave the board. I can also change out the screws to cement board screws too if needed. I didn't specify them to use cement board screws as I didn't think about it.