Floor Plan Review please (Summerfield?)
Hey Gardenweb...hoping you guys might give me some feedback. I need help with space.
So a little about us and our property. The fiance and I are hoping to pay down most of our land ($60k to go) and build sometime next year when we get down to the $15-20k mark. It is just the two of us. We picked up piece of land in Keller, TX. It was a foreclosure and we got a great deal ($92k with tax value of $180k). Its 2.5 acres that is 207' wide by 500' deep facing North. There are 15' easements on all sides of the property. Im a big car guy so having a large and multiple garage setup is a big part to me. While my dreams are big, my pockets aren't. Deed restrictions says minimum 3500' single story or 2500' down and 600' upstairs. Im not a big fan of 2 story houses as the heat in Texas will kill your electric bill trying to cool the upstairs.
I found this plan: http://www.architecturaldesigns.com/house-plan-9544RW.asp (clickable link at bottom)
and fell in love with it. Beautiful, simple one story house with an AMAZING garage. We both love the looks of the house...but it is 204' wide house and we can build a max of 177' wide. Chopping off 30' is no easy feat. I have tried multiple ways and finally found that it is easiest to just move a garage.
So..this is my rendition: Lots of changes as the original plan is setup for a basement, its 7000sqft with just the master on the main floor. Added 2 bedrooms on the main floor. Above the carport and garage connected would allow for future expansion if needed. Also building above the back garage is possible. Not pictured is the room above the dining room which will be the media room. It is much like the plan above but I have added a powder bathroom and closet for media equipment.
Id love for some advice. Id like to try and shrink down a bit. It is currently 4089sq ft. The house I grew up in is 3800sq ft and has large rooms with a formal living and somehow is smaller. I know the master bath and master is large and it could probably shrink a bit, but as they say, these things (along with the kitchen) sell houses.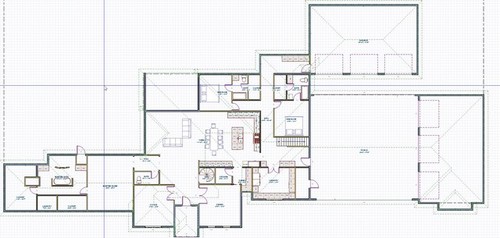 Here is a link that might be useful: HOUSE PLAN