exterior elevation help
Still working to make this look right. You can see my original post in the link with earlier pictures. A friend of mine said that we would not be happy with the rooflines because the pitches were different and didn't line up well. He also said we wouldn't like the dormers being different sizes and that it's not symmetrical. I think we would probably like the different dormers but the other stuff I have honestly been concerned about.
Here's the most recent one the designer sent. She changed the roof pitches so that the side sections are the same pitch as the middle section. She also raised the roof on the left (master bedroom) section to match the height of the right (garage) section.
I imagine doing all those things will add a lot of cost. Right?
Do you think it looks right now? Are all those changes worth the money in the long run? Do you think it would look better if we just changed the ceiling height so both sections match each other in height but left the pitches different? I think if the pitches are different it only looks odd from the side, right?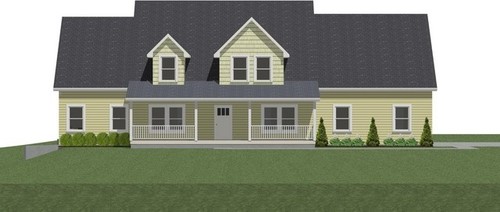 Here is a link that might be useful: original post