Any issues using porcelain arabesque on shower floor?
aporthole
September 30, 2013
Anyone have opinions on using a porcelain arabesque mosaic on a shower floor?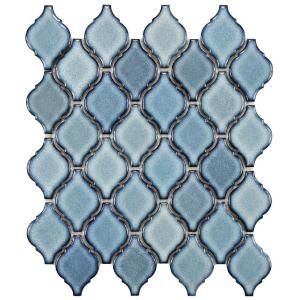 We really like the look of this one and the price is good, too at $11.97/sq ft. The shower pan is 36"x48", shower walls will be the cheap $2/sq ft white Daltile 3x6 subways from HD with Laticrete Permacolor grout in Silver Shadow. We are also thinking of using the porcelain arabesque on the back of the 12x20 shower niche. The bath cabinets are white, lower walls SW Alabaster beadboard, upper walls SW Tradewind (light grayish/greenish blue). The bathroom floors will be a warm earthy gray variated glazed porcelain (Emser's Bombay Modasa).
We originally considered using a marble hexagon mosaic on the shower floor but the durability/maintenance issues with light colored marble on a shower floor are a HUGE turnoff.
Any potential issues/concerns to consider with using the porcelain arabesque tile pictured on a shower floor (other than the difficulty of install)?
Here is a link that might be useful: Details on pictured tile