Success in the tile hunt!
I posted earlier about various combinations for tile for my shower walls. I was going in a white on white direction, because my husband is opposed to color. The floors will be honed faux-marble, and the counter is quartz that looks like marble, so I knew I had pushed him to the edge of his tolerance for decorative finishes. I decided on doing white subway on the bottom half of the shower, and 6x6 white on the top half (or vice versa). My husband agreed that I could have a small band of a pale, unobtrusive color in between, so that was today's agenda.
So it was really fun (unlike the rest of the shopping I've done for this bathroom project!). I found out that Status Ceramic, a local Seattle company that makes all handmade tiles, has a seconds room that they'll let you visit. I made an appointment, and spend a couple hours digging through boxes and going over different combinations. They have absolutely gorgeous tile! Most of it I would never be able to afford at the retail pricing, so I was really glad to learn about the seconds room. I bought a few different sizes of their field tile in a color called borage, in a crackle finish. I also picked up some of their super ornate deco tiles. All for a very reasonable $70!
Here's what I think I'll do on the main wall of the shower, which is 48" x 36". Fixtures will be on one of the shorter walls. In this design, I've got subway below, a band of 6x6 in color, then white 6x6 above. I was originally going to lay the 6x6 on the diagonal, but then I came up with this idea of framing a pair of the fancy tiles. What do you think?
A close up view of the inset: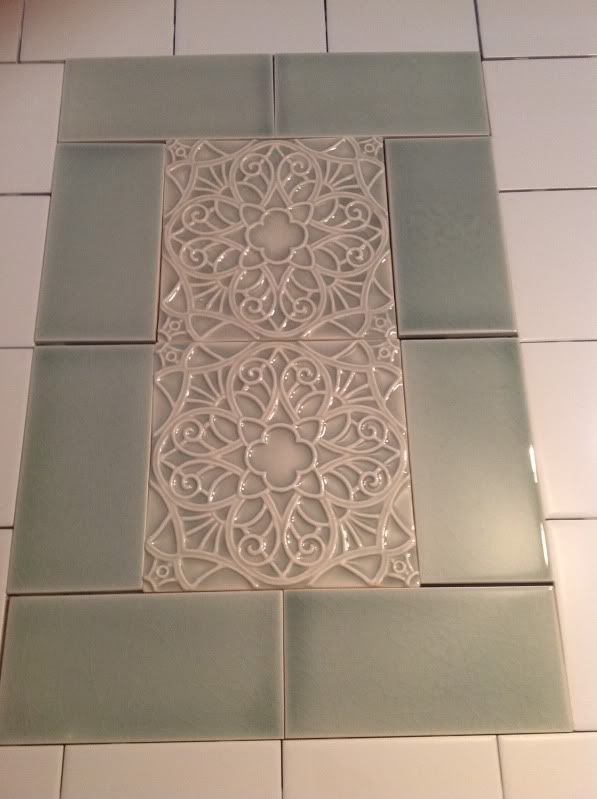 Here's an idea for the backsplash on my 60" vanity: