Soapstone shower base, cracked, now what
Hi All, we just finished a bath remodel which included two soapstone vanity tops and a custom fabricated shower base/pan. I was not there at the installation of the shower pan (my contractor was), and the shower base was installed first and remained covered while the rest of the shower was tiled. Even when I was able to see it it was caked with dirt and grout from construction so I never got a good look at it. When construction finally finished and the bath/shower was complete, I looked at my beautiful new soapstone shower to find . . . a crack running all the way across the middle of the ground slab, through the drain area. It is definitely not surface veining and can be clearly felt with a finger. It remains dark and I'm not sure if this is due to water, building materials, or because it was epoxied together previously. I also have no idea if it was there before, during or after install (though the remnant pieces I chose did not have any fissures as far as I know).
The issue now is that the bathroom is complete. Replacing that slab (which is essentially tucked under the tile and mortar on all sides) would be far more intensive than, say, a countertop, because it would involve tearing out probably the whole lower part of the shower tile (if that is even possible without demoing the whole shower), redoing the shower pan slab, then retiling.
As of yesterday, I have a call in to the supplier/fabricator (same company). I am still waiting for the call back from the responsible fabricator. I paid for the soapstone install separately from my tile and other contractor services, and I don't see how anyone else is responsible (except maybe for not making me aware of the crack if they had noticed it previously before it was so late in the game).
Anyone have suggestions on what a "repair" might look like in this situation? We have a baby on the way in about 2-3 weeks, so a massive demo of the shower probably will not fly with my wife. I'm hoping some epoxy/soapstone mix can be made to cover it up, but being a shower pan it is not being oiled and probably would not change color with the rest of the stone when wet. Or maybe it can just be sanded smooth? What will water erosion do over time in a crack like this?
I'm extremely frustrated by this turn of events as we were very excited about the two bathrooms, especially this custom piece. Ironically, the whole reason we had to remodel them was a shower pan leak in that same shower . . .
All suggestions welcome. Pics posted.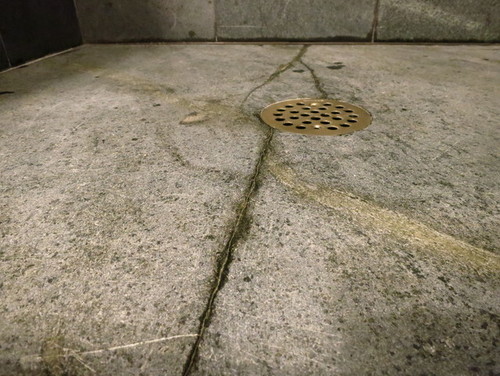 This post was edited by SFH-CA on Wed, Sep 25, 13 at 14:38