Can I live with sliding shower doors?
Okay, I know this is a question only I can answer, but I'd be interested to hear from anyone who struggled with the question whether to spend the big bucks on an all frameless glass shower, and ended up with semi-frameless sliding doors (or vice versa). I had fully expected to go full frameless, but now that construction is beginning, I'm worried about door swing issues. Here's the layout: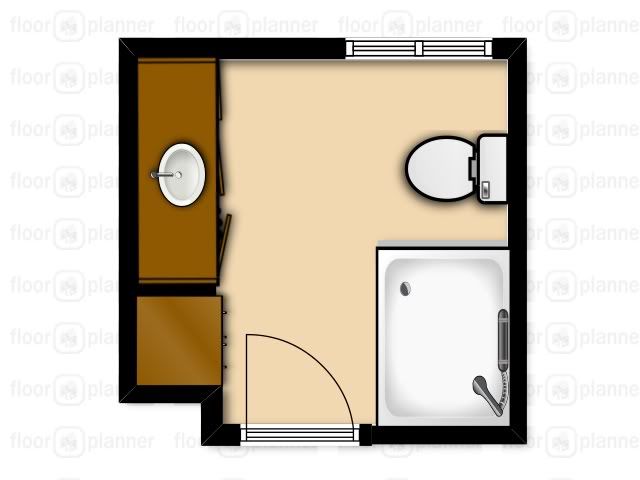 My contractor said he could change the door to swing out, but it will be expensive and may cause a domino effect with cracking plaster on the hallway walls and ceiling. Apparently you can't just flip the door hinges to the other side, as I had hoped.
That leaves 3 options for frameless glass across the front of my 48" wide shower, which is immediately to the right as you enter. (1) fixed panel on right, and a 24" door hinged on the left, which would technically work even if the bathroom door were open. But they would almost touch. With the door closed, you would have to step over toward the bathroom door in order to get into the shower. (2) fixed panel on right, with the 24" door hinged off the panel. Easier access, but I've read that it's more unstable to have the door swing from a glass panel instead of from a wall. (3) fixed panel on left, and door hinged on the far right. Easy entry into shower, but obvious conflict with bathroom door.
The cons of those options lead me to the sliding, by-pass door option. I don't like the bottom tracks, although they look a lot less prone to trapping gunk than they were in earlier days. I don't mind the top, side and bottom framing of certain models, and these styles tend to be much less $ than custom frameless. Basically, I don't mind the looks, but I don't love this style, either - at least I don't react the same way I do when I see a lovely frameless shower. But then again, a bypass slider is infinitely more practical than a swing out door.
Stories to share? Opinions? Suggestions for how to make a swinging door work? Which of the 3 options would you go for, if opting for the full frameless? If you're a fan of sliders, do you have a brand you recommend?
Sorry to be so long-winded, but I could sure use some help!