Floor plan critique - Hollowcrest
This is super early planning since I just got married and we aren't planning to have kids for a few years and wouldn't build our own home for probably five years but I have always been interested in home design and spend a lot of spare time "designing" our forever home.
We have spoken a lot about what we want in a home and it's quite a long list...bear with me :)
Exterior:
- 3-car garage
- Covered front porch, eight feet deep
- Craftsman or Traditional style
Main Floor:
- Family room (big, 16-18x18-22) with built in cabinets for TV
- Living room with fireplace (smaller,more like a library almost, 12x14 maybe)
- Kitchen with island and wall oven/MW combo, DW, double sink, recessed fridge
- Walk in pantry
- Big mud room with lockers/cubbies built in
- "U-shaped" staircase closer to mudroom/kitchen than front entry
- NO formal dining room
- Dinette/breakfast room attached to kitchen (big enough to seat 8-10 people)
Upper floor
- Master Suite with his/hers closets (smaller), master bath has double vanity, tub, walk-in shower, WC and linen
- 3 bedrooms (medium, 12x12ish) with reach in closets (NO WIC for kids bedrooms)
- 1 bath, hall accessible with double vanity in first room, toilet and tub/shower combo in adjoining room
- Laundry room (large), big enough for machines, sink, small counter for folding and 6 or more feet of hanging space
- Bonus space above garage if possible
Basement
- Will rough finish for completion later.
- Eventually will have full bath, bed, kitchenette, family room, storage and flex room (exercise, theatre room, etc.)
Of course these are just basic outlines of what we want. We have specific things within each room as well.
Well, after browsing I found a Don Gardner plan I like. There are a fair amount of changes I would make but want to know others opinions on it based on what we are looking for. Here are some of the changes I would make (sorry, I don't have a good way of making the changes on top of the floor plan and posting it now. Maybe in the future)
- Everything to the left of the great room is gone(including staircase, excluding study)
- Turn the Study into the Living Room, fireplace on exterior wall and make it 12x14
- Incorporate a small coat closet by the LR
- Remove the fireplace in the Great Room and make it single story, 9 or 10 foot ceiling
- Turn the dining room into half staircase half study area. The right side would become the "U-shaped" staircase. Landing against the exterior wall with a big window. The left side would be a small study area: 7x12'8" put some built in desks and it could be a homework area for the kids and also serve as a "info hub" like some people have in their kitchen desk for bills, etc. These could be swapped too depending on which orientation would work best.
- Move doorway from kitchen to mudroom to the right. Instead of a corner cabinet make the cabinets on the right exterior wall flush and straight. Put the doorway between those cabinets and the fridge. Use the old doorway to the mudroom as the door to the pantry would could be "L-shaped" and warp around the fridge.
- Doorway from garage to mudroom could also be moved to the right to accommodate this.
- Mudroom would be rearranged. Remove staircase and laundry area. Configure to have a large coat closet, lockers with cubbies, 1/2 bath and pantry.
- Move garage further down, thus making mud room larger and front porch deeper.
The biggest issue is the fact that in the original plan, the master is on the main floor and there are two bedrooms in the basement. Besides a bonus room there is virtually no 2nd floor. I would want to put a master suite, 2 or 3 bedrooms (if we have 3 kids and 2 have to share it would be fine), bathroom and laundry. The master suite could go above the family room since it won't be 2 stories anymore and breakfast and kitchen. And I'm sure I could find a way to arrange 2 bedrooms (above LR and kitchen/mud room), bathroom, laundry and a sizable bonus room above the garage (which would help with the bedroom sharing thing).
Whew. Sorry for the long winded post. I probably forgot a bunch of stuff too. Any input is greatly appreciated.
I'll try to reflect the changes over-top the original plan visually soon if I can.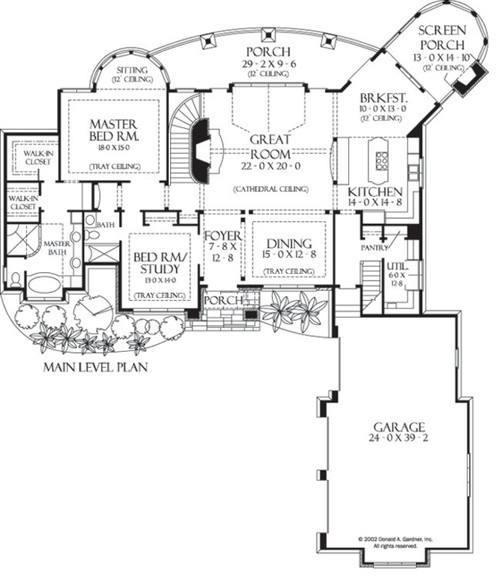 Here is a link that might be useful: The Hollowcrest