The weirdest thing (Christmas present)
vacuumfreak
January 4, 2011
So, I exchanged gifts with a friend a few nights ago and he gave me something so strange! I got him a paper shredder... his only worked in reverse and he'd never had a good one... I've given paper shredders before and people always love them for some reason so I knew it would be a hit :o) Anyway, what he gave me is this thing called the Starlight Lamp. It is a fiber optic light with flashing, dancing LED lights. The fiber optic bundle sits on a base that rotates so that the lights can spin around! That feature can be turned on or off. There are several different light patterns that can be chosen from pulses to slow or fast fades. The speed at which the patterns change can be altered. It plays a few musical tones (new age type stuff... the stuff you would hear if you were having a massage or in a meditation class), and even a few nature sounds. My favorite is the one of the waves crashing on the shore. The lights can be set to change in response to sound or music, and the sensitivity of that feature can be increased or decreased. There is also a volume control for the speaker. There are audio in/out jacks, and even an A/C adapter (which is not included) jack if you don't want to use batteries. It can be placed on a table or stand on the floor using the 3 included 4 foot legs. I have mine on the stand so Jasper can't attack it.
Anyway, I've never seen anything like it before and at first I thought it was a little tacky, but I must admit, I really like it now! The only thing that would make it better is if it had a remote control! Here are a few pics.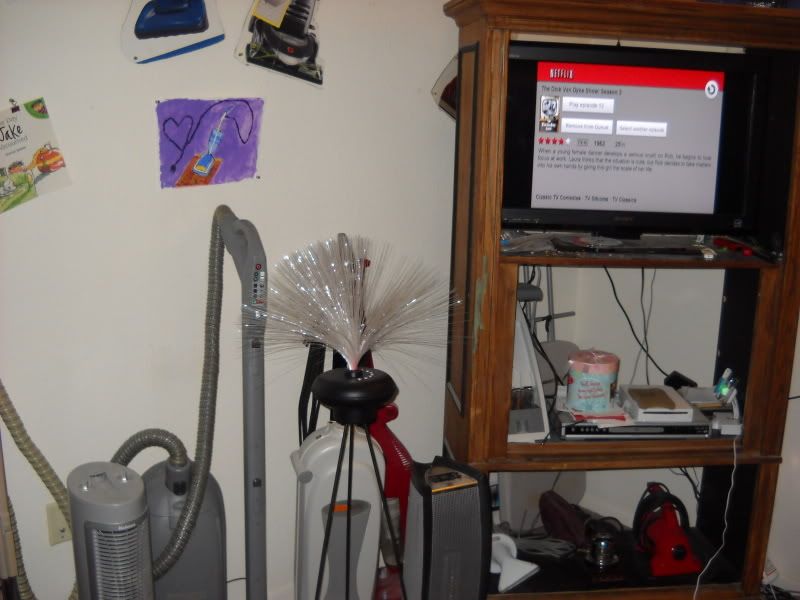 This last picture is with it spinning.