Want Floor Plan Advice and Opinions
Hello everyone,
We have a lot and builder. We have been looking at floor plans for a long time and know what we want and like. We're at the phase where we have to nail down all the details and have "our" plan drafted up.
Here's the stats -
Lot = 1.26 acres, square and flat with access from the north.
Target main floor square footage 2300-2400
(rambler/ranch style with unfinished basement)
Required rooms: 4 bedrooms and 3 bathrooms (we're expecting baby #6 in a month), plus great room, kitchen, one dining space large enough to fit a family of 8, laundry with space for 2 washer & 2 dryers and storage, and a den / playroom / homeschool room.
Our goal is to get the space we need with a layout that is functional for us, while staying in a tight budget. We're cutting costs by using basic or standard finishes inside in places aren't hard to update later (much later), if desired. We won't cut back on the quality of the structure (framing, insulation, etc.) or features that are not easily changed in the future. (I still want 9 foot ceilings in most areas of the house).
So, we have 2 house plans and we're trying to meld them together. Any ideas on doing that would be great.
This first one has the basic layout & location of rooms that we like, but it's too complicated (too many corners and bump outs) for our budget. We'd also need to add the den/playroom/homeschool room off the dining area in lieu of the 3rd car garage (only need 2).
(Sorry, I don't know how to get the original image to work, it keeps posting in black.)
Here's a link to the plan online: http://www.houseplans.com/plan/2293-square-feet-4-bedrooms-3-bathroom-traditional-house-plans-3-garage-25657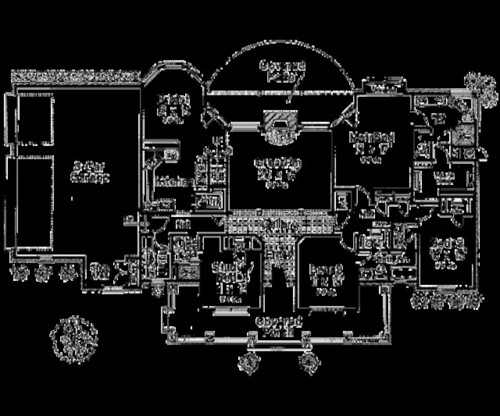 Here is a link that might be useful: Link to plan at houseplans.com