Old World Santa Vignette on Porch Table
jeannespines
December 7, 2012
Changed up my porch table centerpc this yr ... I'm trying a new 'Woodland' vignette. Last yr I tried this Santa & this pine tree in a windowbox/window ...but then I struggled on where to hang it on the porch ...I wanted the snowy outside to come thru the window! NILCH...didn't happen!!!
So I came up with this idea of using an 'old window' on my white table on the porch! Here's the Old World Snowman (on sale after Christmas) & a burlap wrapped pine tree:
Plus a cool tree that looks kind pine-coney like ... another after-Christmas sale item...here's a closer view of Santa (& I learned today that these Old World Santa's are also called 'Belsnickle' (German):
On the 3rd pane of the window, I added another pine tree plus this brass rocking horse & sparkly Santa (both thrift shop finds):
And here's a couple of views of how it looks on the table ...added some faux snow ...& there's no snow 'outside' as you can see (yet)!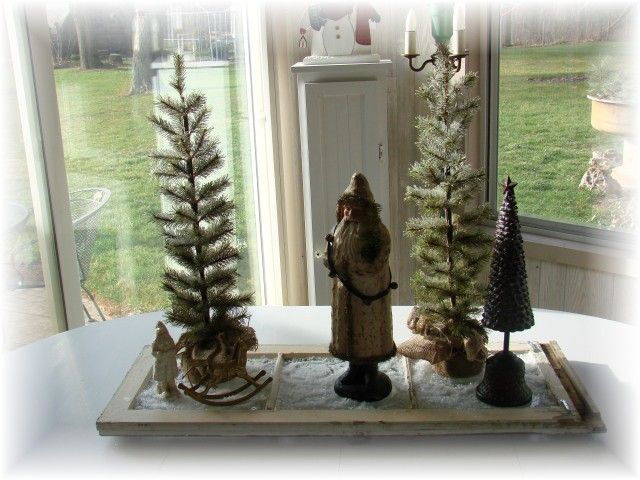 Will probably be 'tweaking' some more as I empty totes...working at it a little each day ... hey, 18 days til Christmas! TFLookin'! Jeanne S.