'Winding Down' Christmas/Winter Decor
jeannespines
December 16, 2011
Ok, I am 'winding down' on my Christmas/Winter decor ...thought today I would be finished...nearly so ...& tomorrow start 'wrappin' presents! (which I love to do!)
Here's my basket w/the flaming lights that I fill w/pinecones, cinnamon sticks & berries...it sits on the treadle of my gr'ma's treadle sewing machine in the LR where I recently shared the 'Elves, Santa & Snowman' post:
This crazy rockin' Deer (moose?) sits beside the treadle (& sings Gr'ma Got Run Over by a Reindeer...Christmas gift to DH from one of the kids a few yrs back! & the wood reindeer DH made a long time ago & I painted:
Got Mr. & Mrs. Santa (oldies) hooked up downstairs near the fireplace ... & the ceramic tree I made back in late 70's: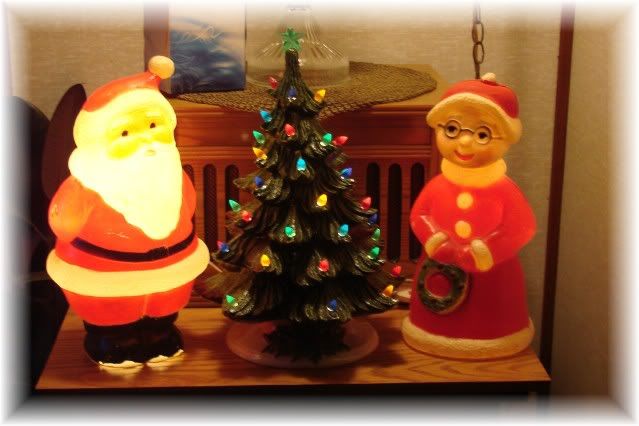 Thought I was almost done ...few odds & ends...got up the tinsel tree downstairs & old nativity set ...then the doorbell rings...a pkg ...for ME! Ummmm....a Holiday-er sent this to me & Dollbaby: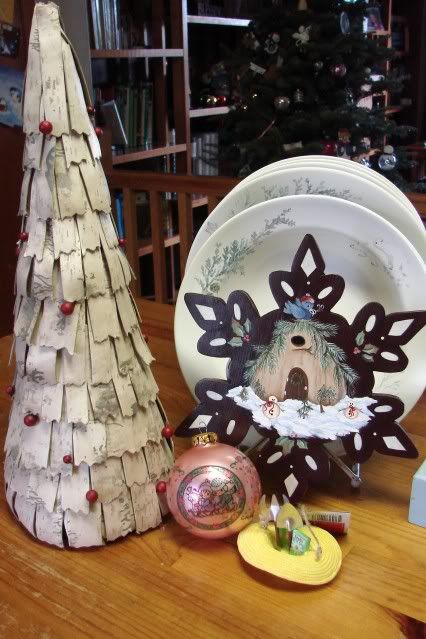 (a big birch lookin' tree, a hand-painted big snowflake & 2 ornies for Dollbaby...pink Precious Moments & a gardening hat w/tools!)
So guess where that BEAUTIFUL birch lookin' tree went!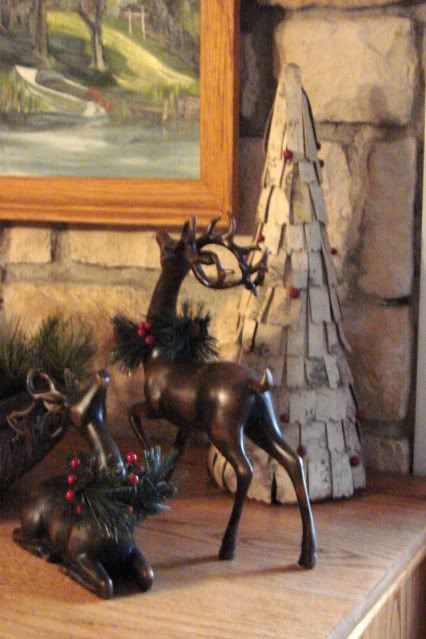 Yup, down on the electric fireplace cabinet!
Tomorrow the big snowflake is going to find a perfect spot on the porch w/all the Snowmen(& ladies!) Thank you, Holiday-er friend! (the ornies are going on the tree)
I have showed this wall basket recently, too...but since I am not real good at arranging flowers/etc., I thought it needed a little more color...so I added the red tiny berries:
Inspiration from many of you Holiday-ers here on the Forum! TFLookin'! Jeanne S. (& a BIG thank you for the surprise pkg, Holiday-er!!!)