Help with Master Suite Layout
Close to finalizing the design for my house - input from the forum has been invaluable. The last sticky point is the master suite with none of the current designs we've been looking at really hitting a sweet spot.
We are looking for
-master bedroom min size of 15 X 19 (15 is a good distance to the TV from bed).
-Bathroom with large tub, decent sized shower, nice airy fee. Our current bath is 11X12 and works well
-Nice sized closet - could be single or two master closets, but somewhere near 25-30 linear feet of shelf/hanging space.
- Don't like going through bath to closet
- we are a bit nosey - like to see out the front of the windows into the street. Not a necessity, but nice.
- Back of house is southern exposure and fairly private - nice to have sunlight in bathroom
Below are 3 different views -
1. Bedroom in rear of house - gives up being able to see the street because tub is in front of windows. Would probably redo the layout in the bath a bit for more toilet privacy.
2. Bedroom in front of house, bath side by side with closet. The bathroom seems too narrow - looks like a thin bath ending in a tub
3. I tried some views on my own - taking some space from the bedroom to enlarge the bathroom and put it at the back of the house. It gives a large bath, but an awkward entrance into the bedroom from the hallway.
Any comments or fresh ideas are welcome. Maybe I'm being too particular, but want to get this right as we need to get out of design and into the construction plans.
Thanks in advance for any assistance.
1. Bedroom at rear
2. Bedroom in front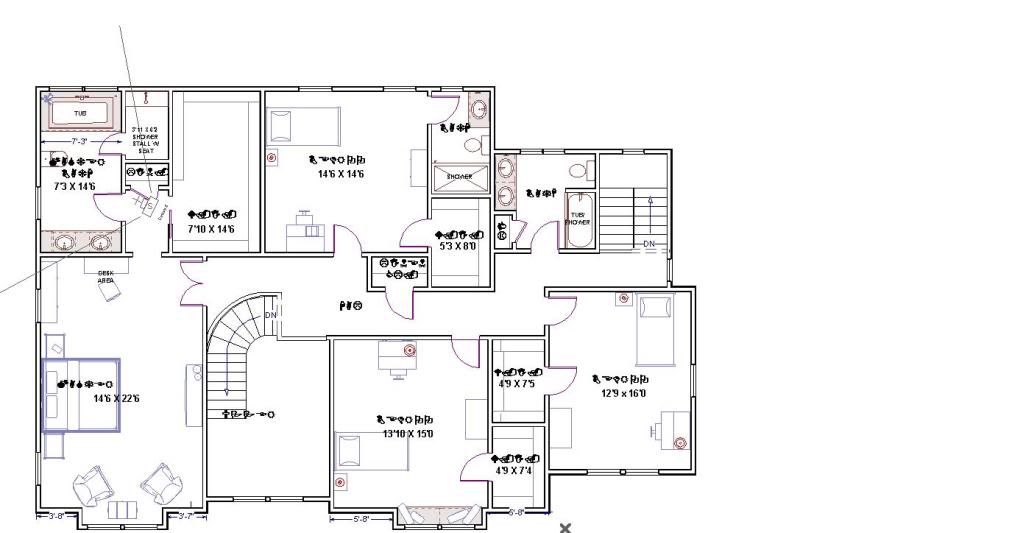 Alternate views for bath at rear
3. Some very crude ideas I was playing with - took space from the bedroom - ignore the crazy curved walls