Buffet Winter Decor is Done!
jeannespines
December 10, 2010
Am enjoying doing the Winter decor & it certainly is WINTER weather here!...blizzard warnings tonight & below zero for the weekend lows! Christmas is coming quickly & I'm working on getting ready...which I love! (but kind of pokey this year!) Ugh!
Here's those apothecary jars I showed you on a diff post...I have changed them out with a candle (thanks, slinkey!) & a garland of beads in the smaller jar...& this GS "deer" find for $1.50 this summer...Here's a close-up pic with the faux candle lit:
And a pic w/o the candle lit...(more dancing of light from the jars when the candle is not glowing)! DH just came by my computer & said, "what's that? reindeer poop?" with a grin on his face...that's the bead garland I added to the smaller jar! He is such a funny guy & you can feel the appreciation he has for decor! LOL!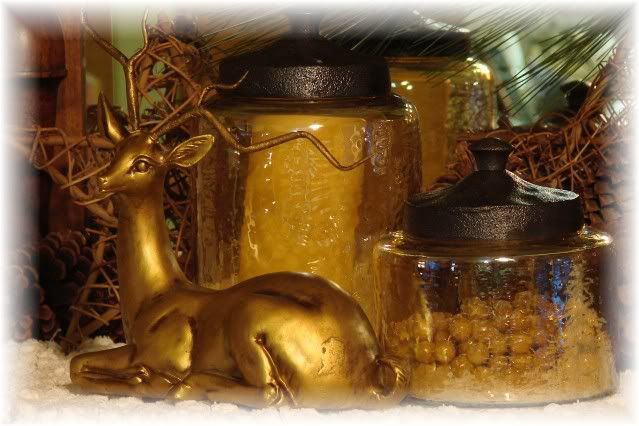 Here's snowman at the other end of buffet with bird waterer (candle) & birds...added those huge pinecones I got last yr at an estate sale...some red berries, viney star...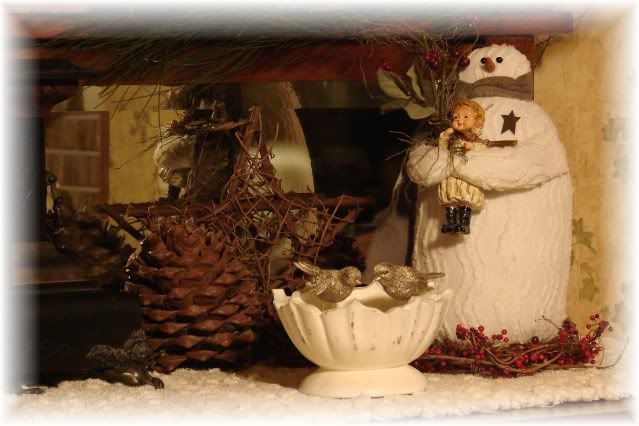 Further away look that shows snowman, vine tree & table centerpc:
Here's the full buffet...same pic on walnut shelf above which DH made...this is the only print I've ever had professional framed & I cherish it. FINALLY got the pine garland to stay in place...kept falling behind buffet...DH cut some foam squares for me & tucked them behind ledge:
Next I need to change Dollbaby's outfit & table setting...I'll probably be inside for the weekend! Somebody, slow down time, please! TFlookin'! Jeanne S.