Please weigh in on my counter choices
My floor tile just arrived, and I've got a vanity cabinet, but now I need a counter. Which do you like, if any? First, the context:
My house was built in 1906, so we don't want to stray too far from a traditional or transitional look. That said, my husband vetoed hex marble flooring so I went with large scale faux-marble, which strikes me as verging toward modern. For the counter, I'm drawn toward quartz, which also reads modern in most settings. I guess I'm open minded, but don't want something that's totally out of sync with my Edwardian house.
The flooring is porcelain 12x12; it's called Marmi Statuario Veneto, by Isis USA. It has a creamy, warm tone to it, as opposed to a blue-gray tone that seems to be the other option with marble look-alikes.
The vanity is cherry with a medium cherry finish and a fairly traditional looking door/drawer. The counter will be 60" long with a single undermount sink (Toto cotton white) and a traditional looking chrome faucet.
The shower will be white on white - basically bands of white subway and probably arabesque, plus faux-marble if I can find one I like that has a glossy finish.
I'm showing photos of all the finalist options, with the counter sample set on top of the floor tile, next to a drawer front that I'm in the process of refinishing.
Here's quartz in "concrete". It has tiny bubbles of grays - looks a lot like polished concrete: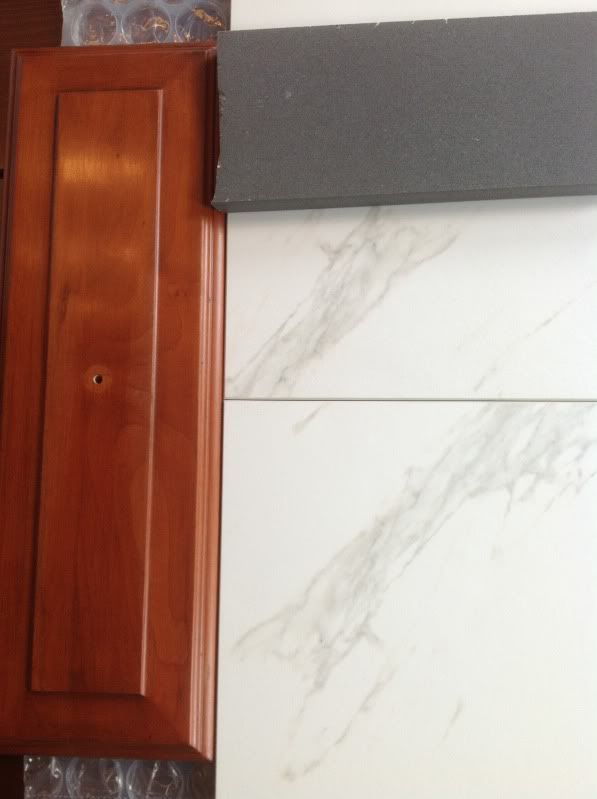 Here's "snowy" quartz - a lot like concrete in terms of bubble size/texture:
Here's Verde Antiqua marble, honed finish. This color is almost a perfect match to Restoration Hardware's Silver Sage color; we have a fair bit of that color in the house elsewhere, so I was naturally drawn to this marble when I first began looking.
Here's a quartz in "nougat", which has lots bigger flakes and more movement than the Snowy or Concrete: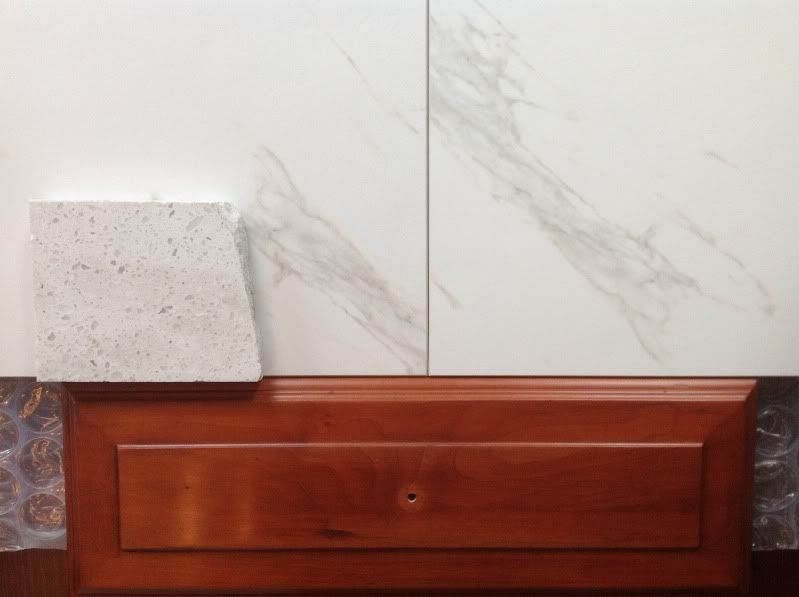 Finally, here's carrara, which is obviously very gray compared to my tile. Although initially the counter of my dreams, I've cooled off on this one as I've looked around: