Help me Decorate Around This Vanity
amritakaur
August 11, 2012
I'm remodeling my 8 x 7 ft. bathroom on a shoestring budget, and was looking for a vanity with "personality". I found this vanity on Craigslist and fell in love. it even came with a mirror (see link below). But now that I have it, I don't have the slightest idea how to design my bathroom around it. Does the style have a name?
All that's certain so far is the toilet will be white and I have this vanity.
I'm leaning towards a drop-in Kohler Greek bathtub in a tiled alcove, with tile on the side of the tub. What color tub? White to match the toilet, or another color to go with the vanity?
A clawfoot tub would look better style-wise, but we'd be limited to a small acrylic one and they're not as comfortable as the Kohler. I'm open to suggestions for any other short, deep bathtub, as long as it isn't multi-thousands of dollars.
If we go with an alcove tub installation, I'd like porcelain tile for easy care.
So... tile, paint, lighting, medicine chests, small storage... if you were remodeling this bathroom what would you choose?
I totally lack the decorating gene, so I really appreciate your advice!
(these pictures are from the Craigslist ad, not my own bathroom)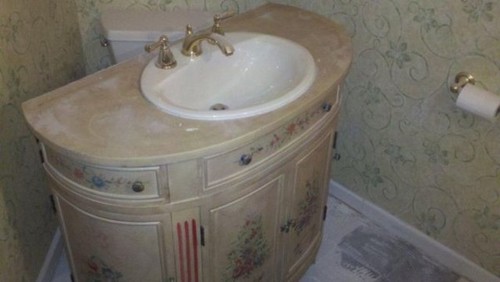 Here is a link that might be useful: