Winterfrost Dishes Decor & More in DR & Kitchen (pic heavy)
jeannespines
December 10, 2011
Dishes & glassware! Got it down out of top cupboards & out for the Winter:
Here's countertop Santa/Sleigh decor...pcs I found last yr & displayed due to 'Enablers 'R Us' on this form ...all FM finds & big %off silver tray...Christmas decor:
Another fuller view w/framed tap dance pic & silver bird napkin rings...those I did buy new last yr...they are very pretty:
Top of fridge...my pottery snowmen & Winterfrost big bowl...I use it for punch bowl over Christmas:
Winterfrost bowls & plates on the divider counter in my kitchen...they'll stay out til March or whenever Spring fever hits the hardest! LOL! We use them for everyday during this time.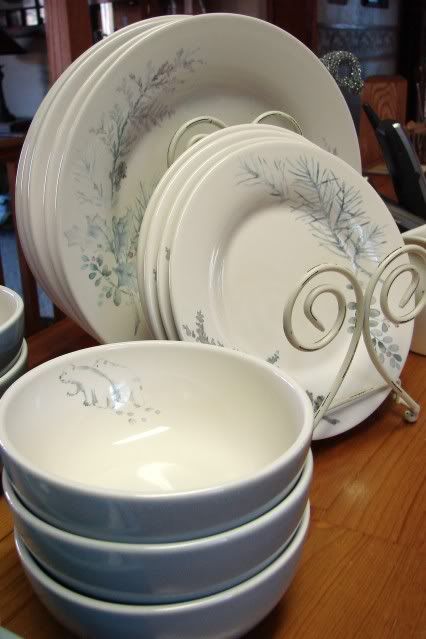 Full view of countertop: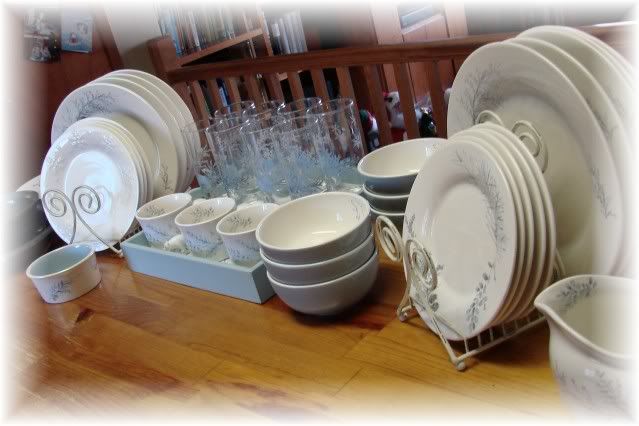 And some cups & little polar bear spread knife:
This yr I put the Winterfrost stems on top of the sliding glass doors shelf in the Dining Room...remember I found the goblets at a consignment shop (& jumped for JOY!) & last yr came across the dessert stems at GWill!
Here's a full view ...added individual place setting S&P shakers up there, too...I'm not sure if this will be tweaked anymore...seems like it may need some foilage or berries or ornies or something...ummmm:
The pinecone/trees Heritage Lace runner I have had for many yrs & have used it up on that shelf ever since ...my DH made that shelf for me & 'lowered' it a few mos. ago...it's in it's final resting place now! LOL! What a job!
And one last pic...top of my china closet...Mary, Joseph & baby Jesus are now added & changed to the candlelight in the glass cage ...added the mercury glass birds. Til the 'reason for the season' ... hope you enjoyed! Jeanne S.