Christmas Dollbaby & More Dining Room Decor (Pic Heavy)
jeannespines
December 10, 2011
Been busy the last couple days (hoping to finish up) ...tomorrow we are going to go get a tree (weather permitting)...it's COLD here ... 0 deg last night!
Anyway, got down my Winterfrost dishes for the Winter season & finished up the Dining Room decor. Dressed Dollbaby in my red/white fur tap dance outfit again this yr:
The nativity set is a gift some yrs ago from my parents when they were Winter Texans...from Mexico ,,,I love it & I also put a strand of pearls in Dollbaby's hand...some of my Mom's costume jewelry: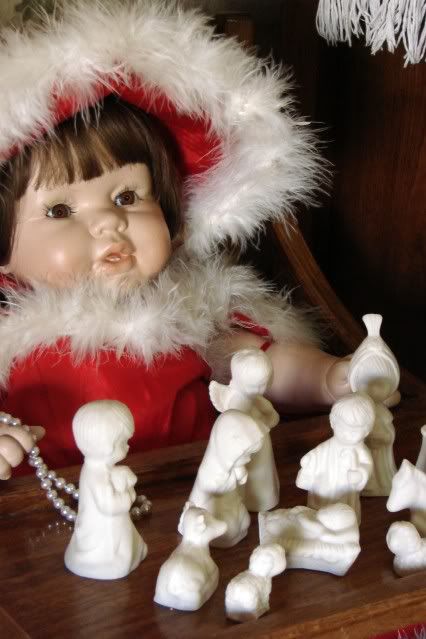 Here's a better view of the Nativity set ...I think it's made of 'soapstone' (?) ... children figurines:
Here's a framed pic of that tap dancing outfit that Dollbaby is wearing (yup, it's me, many moons ago!) LOL!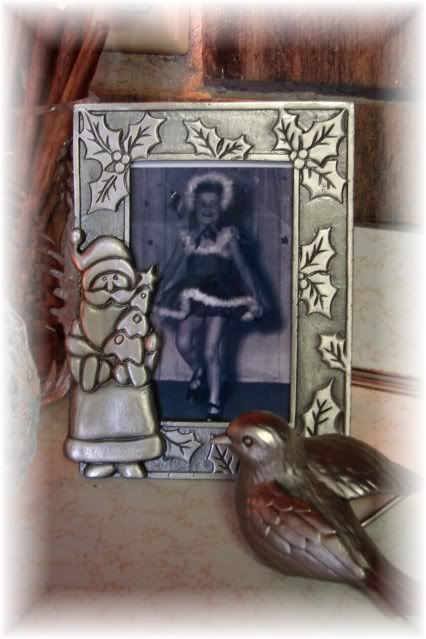 This is the dining room wall basket that I just finished up ...hanging above Dollbaby now:
The left side of the buffet...FM pinecone find for $1 & a new 50% candle along w/some vine stars, berries, pinecones & goodies I like to use for Christmas & Winter:
The right side of the buffet ...w/ GS deer again & those jars I got at HLobby a yr or two ago...timer faux candle/snow in the big one:
And here's a full view of buffet & walnut shelf above:(wall basket not up yet in this pic)
A close-up of that framed print...it's my favorite for the Winter:
Also decorated the shelf above the sliding glass doors w/some of my Winterfrost dishes...I'll post that in a separate thread. TFLookin'! Jeanne S.