My Christmas mantle is the only thing I've done so far...
I have only done my mantle, and that was tough! I tried to use silver plate and white ironstone, but found that at least in the LR, I am NOT a silver girl, even though the pieces are antique!
I also had 'help' (NOT!) from my new son, also a Riley, who I adopted on 11/15 after losing my Joey suddenly on 10/20. He came to me as 'Dannyboy' from New England Brittany Rescue, and he started out in MO, then KS, then NH, and finally to Maine. He's estimated to be between 2 - 4. This is him about 16 hours after he arrived, comfy in my office chair. I renamed him as Danny was too close to my Sam/Sammy, and I didn't want to confuse them. He's big cuddler!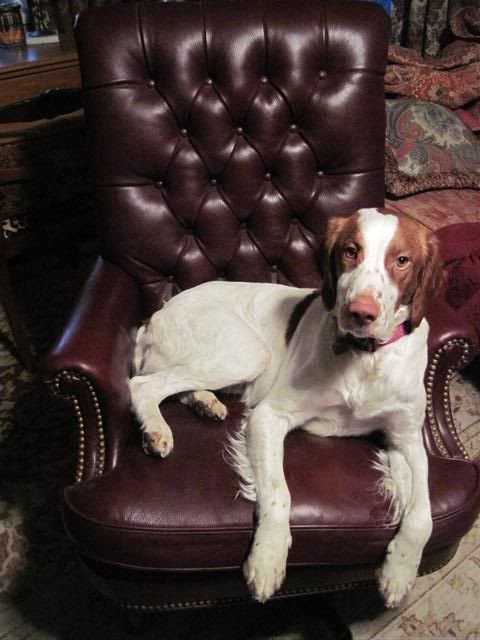 Anyway, without his help, this would have gone up a lot faster, but here it is. $30 antique mirror from CL, lamps I made a few years ago from old barley twist candle sticks (I did NOT drill into them; my favorite transferware, Furnivals Quail, garland I made a few years ago and added to this year, holly from my yard, and I made the scarf from a 25 cent piece of sample home dec fabric that I got at a nearby store. I had the trim on hand. The wooden and gesso piece above the platter is from an old mirror that is long long, and I have always loved it, so plopped it there!