Remember the Old SILVER Christmas Trees?
jeannespines
December 17, 2011
Remember the old Silver Christmas trees? Well, my in-laws had one they decorated every yr ...here's our oldest DD in 1968 helping her Gr'pa: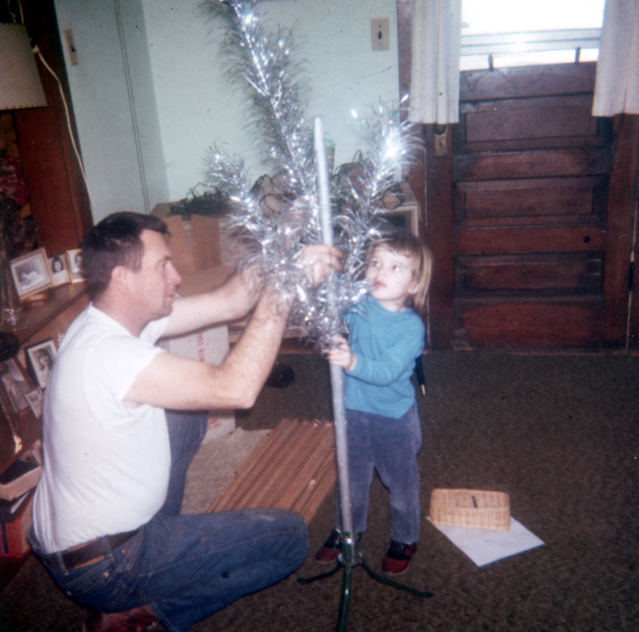 That silver tree went to another person but we got the old 'color wheel' at DH's parents estate sale nearly 20 yrs ago. I found a silver tree many yrs ago thru a catalog (reproduction)...& have been decorating it for about 10 yrs now:
I changed the color photo to a B&W & like that pic alot! The tree is downstairs in our family room...& I use glass tear-drop ornies on it I've found the last few yrs:
And here's some very old Nativity pcs that were DH's parents...some are plastic...some are plaster paris...the triangular thingy I bought at a GS many yrs ago (I think it's a flower pot or something??? ...anyway, looked like a manger possibility to me!
And here's another Nativity set that I have in the LR on end table...it's from Mexico...gifted from my parents many yrs ago when they were Winter Texans ...white & gold & I set them on a pretty crystal plate trimmed w/gold...along w/the old Angel candles & some special old Christmas pics:
Remembering the 'Reason for the Season' & wishing you a Merry Christmas! TFLookin'! Jeanne S.