Overmount Copper Sink Drainhole: Wrong Size Woes :(
I was coming here to ask "woe is me what do I do now", thinking there was some hard-to-understand problem.
But when I went to post photos of my situation, I realize you can just *visually* see the problem! Now really I think my biggest problem is getting the manufacturer, in Mexico, to address the situation.
So here's my story. I bought a copper sink, that I just love, from a place online called www.coppersinkscasacruz.com -- I still love them so far. We'll see what happens in this next great chapter. But the guy who runs it, Jose, was incredibly responsive, incredibly nice, I just love the look of his sinks, and when mine arrived it was beautiful, still smelled of the forge -- everything was hunkydory. And BTW, should anyone care the sinks he sells from his website directly are more expensive than through ebay because he uses a heavier gauge direct -- which I paid for, I thought it worth the extra twenty bucks and I am still happy I went with the heavier gauge.
So -- all's well, it takes forever to proceed and have my cabinet made and the stone added and to pick a faucet. I chose a Brizo oil rubbed wonder for an insane amount of money in part because there was a drain and that's when the real trouble started. I didn't realize I needed to request a popup drain and they didn't ask. But I managed to get Brizo to send a popup drain; the regular one worked fine but has holes all over the place that are no good.
Then when the popup arrived it didn't fit. Though the regular drain did. And it turns out that the drain hole in this beautiful, now-mounted (overmount with silicon) drain is 1 3/8", which is the ID measurement of the popup drain, not the OD which is 1 5/8". My sink is 1 3/8", maybe even 1 1/2". When I called Brizo they said "lady your sink is non standard, whatchathinkwecandoabouthat?"
I emailed back Jose and he wailed that he's never had a problem before and all his customers have no issues and he cannot imagine what the problem is and he uses a standard drain size and it is 1 1/2". When I put a tape measure to the hole I guess you could squeeze a 1 1/2" measure from that though it's a short 1 1/2". But it doesn't matter anyway because the popup is 1 5/8" OD.
I haven't heard back from Jose. But, he hasn't blown me off yet.... It hasn't been enough time.
When I went to write my woes here and ask if anyone has any creative ideas for getting a popup sink that is less than my plumber's warehouse's $150 one, I realize that just *looking* at his original photo of the sink he would send me and mine, you can *see* the drain hole looks different. Here are the two shots.
His sample:

And mine: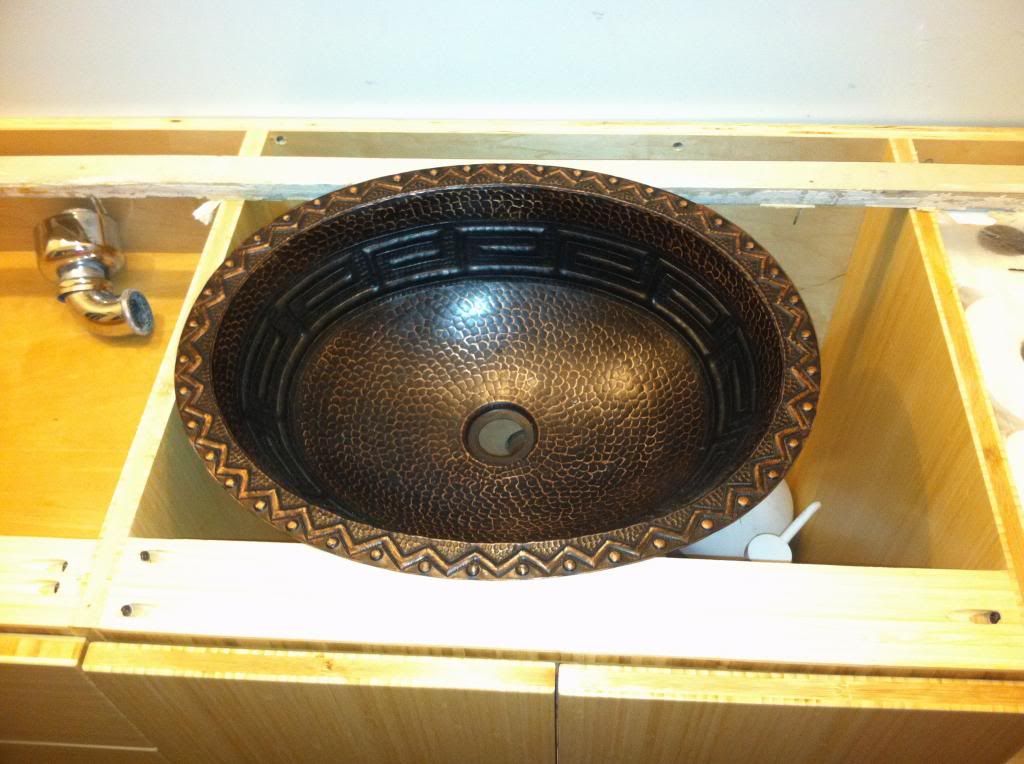 Not, I suppose, that there's much dispute because it is what it is:

So..... I guess what I'm hoping is Jose will look at the photos and say "whoopsey, my bad, something wrong in the manufacturing, let me send you another one". And then I'll somehow have to get the old sink out of it's locale and the new one in there. That's not too hard since it's just overmounted with silicone, right? right??? I wouldn't know....
But of course what I fear is he will vanish into the ether.
Does anyone have any suggestions with any of this? A lead on where to get a cheaper popup drain that will fit? Or how to carefully enlarge the copper drain hole by 1/2 without bending it so things will leak? A way to gerryrig the plumbing so things will work anyway? I don't really even need a drain plug, it's just for washing hands...
Here's a "context-shot":

TIA!