Can this floorplan be modified to fit?
girlguineapig
June 12, 2014
We want to build our own home, but are still looking for the perfect lot. I'm trying to figure out what lot size we need. We're open to (or even prefer!) building a two story home, but there are a lot of confusing rules with regards to building them in many of the neighborhoods we like, so we want to make sure we could build a one story home we like if two stories doesn't work out. In our area (in sunny California), the most common lot size and the minimum size we are considering is 6,000 s.f., which means you could build in a 48' wide x 60' deep area.
So I've been looking around for floor plans and this is the best one I could find (it's from a real estate agent's website, not a stock plan). It's not perfect, but it approximates what we want. It looks like it's 52' wide and 57' deep, 2,126 square feet. This would fit in and could even be expanded on a 7,000 s.f. lot (can build in 58' x 60' area).
The question is, could something like this be built on a 6,000 s.f. lot? Or should I just give up on 6,000 s.f. lots and wait for the perfect 7,000+ one? It's just that 6,000 s.f. lots are so much more common in my area. And of course, they are cheaper.
Some thoughts:
- We want 4 bedrooms, and I'm generally happy with the size of the ones in this plan. I would maybe make the master bedroom slightly bigger, like 14' x 13', and 10' x 13' secondary bedrooms would be better, but these I could live with. We really want all the bedrooms to be on one side of the house like they are here, though I wouldn't mind if one bedroom were on the other side (last bedroom would be a guestroom/office).
- Love the master bedroom in the back of the house with windows towards the backyard. Even better if I could have windows on two sides of the master, which is possible in this plan.
- Would change the master closet/bathroom situation so they are separate. I'd want the walk-in closet to be a bit bigger as well. We would love a water closet for the master bathroom as well, and would have a shower instead of a tub.
- Love dual sinks in bathroom #2, but don't love that it doesn't have windows. Maybe skylights would fix that problem? Or fitting the bathroom on the side somehow. Not a deal breaker though.
- I love the living room off to the side like this, and I love its size. Perfect for my grand piano.
- I could go without a separate formal dining room if the area in the 'breakfast room' was bigger.
- Slightly bigger kitchen would be great, but this one is not bad. I would prefer it to just be an L with an island instead of having the fridge on the other side like it is here.
- Garage should be at least 20' by 20'.
So what do you think? Can we buy a 6,000 s.f. lot, or should I just be patient and wait for a 7,000 s.f. one?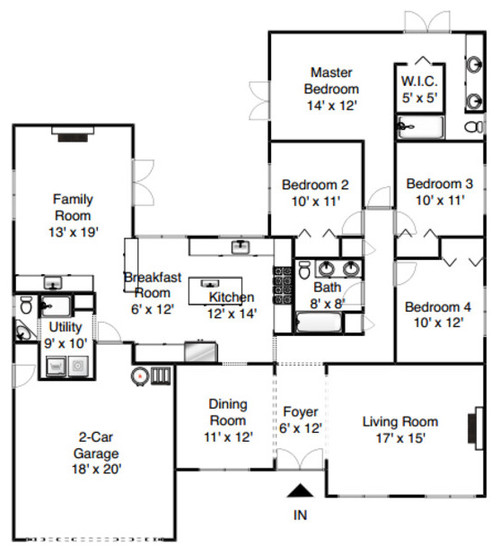 This post was edited by girlguineapig on Thu, Jun 12, 14 at 17:44