'Simplicity' Bath Decor for Christmas
jeannespines
December 16, 2011
I always get a chuckle out of the BOP (back of potty)pics that some of you Holiday'ers now share! So here's my 'Bath' this yr:
This is my lil' Goebel Angel made in W.Germany (passed on to me from my Gr'ma's estate) ...love that she plays the accordian!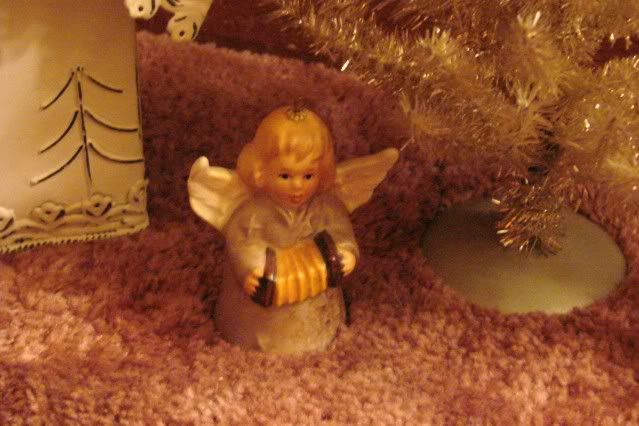 Another view w/white metal bird house: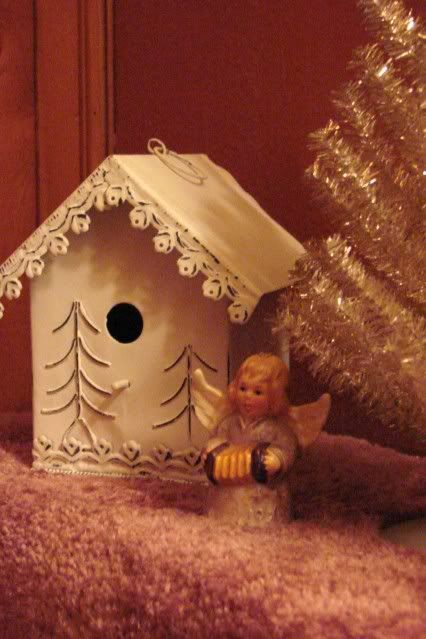 And an evening view:
Across the way by the tub is this tall character...I love him...he's been around for quite some yrs & I had found him on a Christmas shopping trip at Kirklands (which isn't there anymore):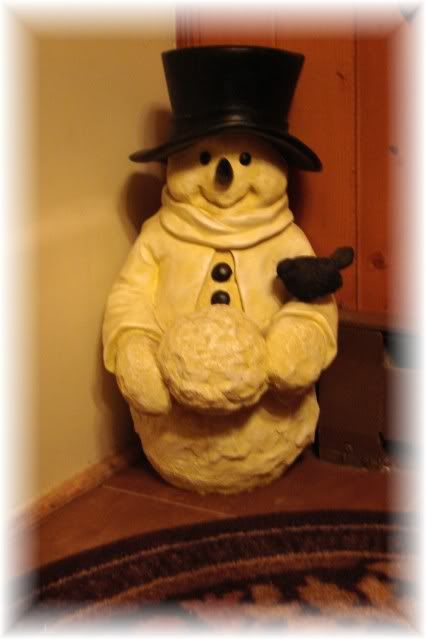 Sometimes I put sunflower seeds in his hat! LOL!
This oak shelf is by the sink mirror ...I bought it many yrs ago (before I knew the term 'Mission style'...it just appealed to me:
You've probably seen this "Angel" on the forum in other posts...it came to me from a friend here:
On top: Snow babies caroler's w/brush tree: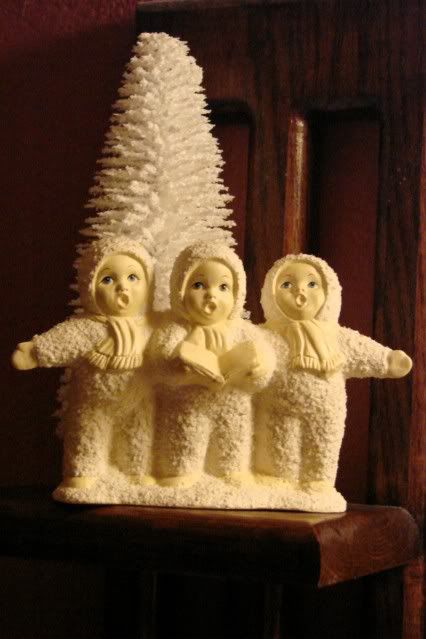 & this special 'Nativity' from a church service a couple yrs ago...our town was recovering from a 100 yr flood (or anyway one of the worst in history & so many lost everything some that had never been flooded in their lifetime. We live in the country, so did not flood...but at church, another town had provided these for the congregation:
This notecard was attached, "Mary & Joseph, bent over their newborn son, Jesus Christ. He has been adorned with a gold crown - fit for a King! A shiney star overhead draws those from far & near. The nativity is fashioned from square nails, much like the ones that would one day be used to nail this Child of God to a cross. The journey that He would walk for us, gives us hope & strength for the journeys that we must walk." Your Friends at Hope Church Spencer, Iowa
Hope you enjoyed the 'simplicity' decor of my bath ...may you enjoy the Christmas holidays ahead! TFLookin'! Jeanne S.